By Margaret Ann Garrett
At the age of 12, Liz Lindström would tag along with her father, artist Bart Lindström, to his portrait commissions to sit quietly and observe. At 19 years old she received her first portrait commission and that was the beginning of her professional career. Today, at 35, she has defined her own style and is known for sensitive work which is technically proficient and captures the spirit of her subjects.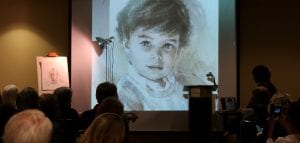 A busy artist and mother, Lindström and her husband Tyler drove from Tennessee for her presentation to the Portrait Society of Atlanta's January meeting. For the demo she brought along a portrait that was 80% complete in order to demonstrate her technique and show how she brings a piece to completion. She also talked about how to start and finish a portrait, determine which direction the work should go, describe how she takes and works from photographs and finally, how to know when a piece is finished. To Lindström, a portrait is done when it "feels like them". It should let you feel how the subject looks, not just show you how they look.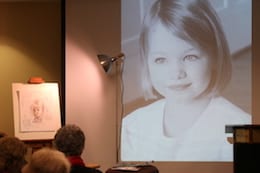 The photo shoot is your chance to capture your subject's unique expressions, to capture their spirit. Lindström's photo sessions usually occur in or around the client's home, where she searches for the perfect scenario using only natural light. She believes good lighting is the key to achieving the best photos. From her extensive work experience with children, she'll do whatever it takes to capture an image true to character—and is even an expert at sound effects. Her repertoire includes an impressive peacock call—which she demonstrated—guaranteed to get a response. To elicit characteristic expressions, she'll talk extensively with her subjects, finding age-based topics that appeal to them.
After the photo shoot, Lindström edits the results and selects the one photo that she feels represents the subject's character. She presents only a select group to the client for feedback. It's her policy to never show the client photos that aren't up to her own standards. Although her photo shoot is in color, she works from a black and white image, and that is what the client sees for approval. Even though Lindström draws from this one photo, she keeps several other images taken from different viewpoints tacked nearby. This helps her maintain a 3-D mental image of the subject. She cautioned however, that when working from a flat photo you can lose a sense of volume and dimension.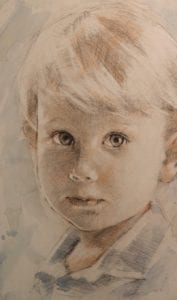 Lindström works on a Strathmore hot-press vellum illustration board that has enough tooth to grab the charcoal, but is not so bumpy that it adds texture. In the beginning, her main goal is to capture a true likeness. If it's not there, she doesn't waste any more time and starts over. She starts with a hard charcoal pencil and never uses anything softer than a medium charcoal pencil. She describes her initial drawing as a "ghosty sketch", a line and not a planar drawing. Lindström usually has about seven portraits underway at one time, but she never works for more than two hours at a sitting. This practice keeps the drawing fresh. Another custom of hers is to keep a giant mirror in the studio that she constantly uses to critique the work.
Lindström uses charcoal and sanguine, and only adds light touches of watercolor for the background and clothes. For sanguine, she prefers a #18 Conté pastel pencil. Whenever she returns to work on a piece in progress, the first thing she does is to pick up an eraser—believing that what you leave out is just as important as what you put in. In finishing this portrait, she demonstrated her push-pull technique with charcoal and sanguine. She always chooses which side of the face to de-emphasize and which to refine. For edges that need defining, she uses the Conté instead of a dark line. Along the way, she described the stage at which she adds the watercolor and her method of applying it. As she concluded the demonstration, she added a delicate touch of color pastel to the eyes, and quoted her father's advice, "It's the artist's job to tell you where to look". For Lindström, it's the eyes that should first pull you into the subject—as aptly demonstrated by her beautiful work.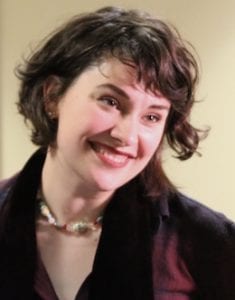 For more on Liz Lindström, her work and biography, visit her web site at: http://www.artistlizlindstrom.com/