by Ruby Mason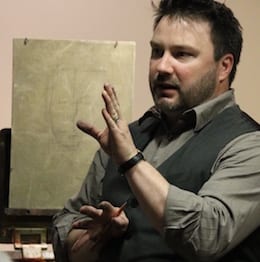 On your mark. Get set. Go! After an impressive introduction by Portrait Society of Atlanta Director Lora Hill, Thomas Caleb Goggans wasted no time in leading his audience through a very generous and informative demonstration of painting a portrait in oils. With sharpened charcoal pencil in hand, Goggans started by expressing his sincere desire to "give honesty and credence to the pursuit and enormous struggle of being an artist."
At the age of 12 years, he apprenticed under Gordon Wetmore, who served as chairman of the Portrait Society of America. In 2003, he moved to New England to study at the Lyme Academy College of Fine Arts. Three years ago, Goggans was designing rugs for Shaw Rug Company. Today, he is recognized nationally and received the 2016 Top Ten in Tennessee award from the Portrait Society of America. Goggans is a contemporary naturalist painter, studio teacher, and faculty member at Townsend Atelier. He teaches because he "loves to teach, but also to level things out."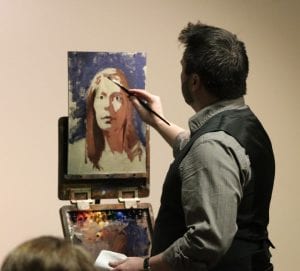 Standing in front of his handmade oil-primed linen on furniture-quality birch panel, Goggans shared details about how he works. Did I mention that his canvas panels, gorgeous pochade box, and painting carrier were all designed and handmade by none-other than Goggans himself. A unique and impressive do-it-yourself kind of guy, Goggans answered questions and gave details about the tools he uses, his brushes, the way he makes his panels, the brand of paints he uses, his palette, and the way he starts a portrait. For example, Goggans almost exclusively uses long flat brushes by Rosemary and Company. He prefers the 279 Masters Choice series. The long, flexible, natural fiber brushes work well for him. A nifty trick he shared is that "if you turn the long flats slightly, you can achieve the effect of the filbert, whereas you can't make the filbert do the flat."
Before starting a painting, Goggans tones or paints his canvas in a muted color that is complimentary to the subject. "When working on a strong white color value, anything you put down is going to appear darker. With a muted complimentary color of a middle value, you won't have to fight with the background." Generally, when painting a landscape, he uses a warm background, and for figures or portraits he uses a cool background.
Modeling for Goggans was artist and PSA member Leticia Bernadac. For the demonstration, Goggans had his subject's torso positioned off-center—so it wasn't facing him directly. He explained that unless you want a static image, positioning the model to either side of dead center adds movement to the painting. After he was satisfied with the pose, Goggans positioned his portable light at various spots, examining and studying the play of light and shadow on Bernadac's face until he found the desired lighting. He also adjusted the light above his canvas so that the light on the canvas bounced in and out at a 45 degree angle. Goggans noted, "distance and light changes intensity."
Goggans usually uses a low-binding Derwent colored pencil to plot coordinates for scale and accuracy at the start of his paintings. As an alternative, he used a very sharp charcoal pencil for the demonstration. The point is to use a tool that will not influence the painting. "Whenever I am drawing accurately is when I am seeing accurately," he said. "It is as much about the observation creating an understanding. Even if I lose something along the way I can find it again if I have an understanding."
After scaling and plotting, Goggans added a very thin layer of paint. "What I am really focused on is the demarcation of the light and shadow," he said. Goggans then explained how important it is to get the light and dark accurate. "If that is not accurate, everything else is on a false foundation."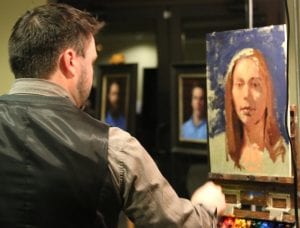 With deep focus and his eyes shifting back and forth from canvas to model, Goggans shared his thoughts and helpful bits of wisdom that he has learned through his experience.
"The bony landmarks where the skeleton is visible determine the likeness."
"Anytime we learn something new we have to integrate the new [knowledge] with what you already know."
"Everything in shadow is one element."
He suggested we ask ourselves this question about our paintings: "What is the strong anchor that everything else is judged off of?" Something Goggans often reminds himself as he works is that "it is about mass and form, not superficial texture."
With his positive energy and the wealth of information that he generously shared, I do believe Goggans could have gone on into the next day or week and still have kept his audience wanting more.  To learn more about Goggans, visit his website at http://www.thomascalebgoggans.com.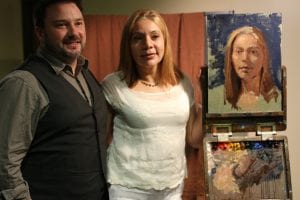 One last thought from Thomas Caleb Goggans — "You have to fight the inclination to be make everything perfect. When you try to make everything perfect, you don't leave any room for exploration." So now, go on to "explore" and integrate what we learned from Caleb into what we already know.