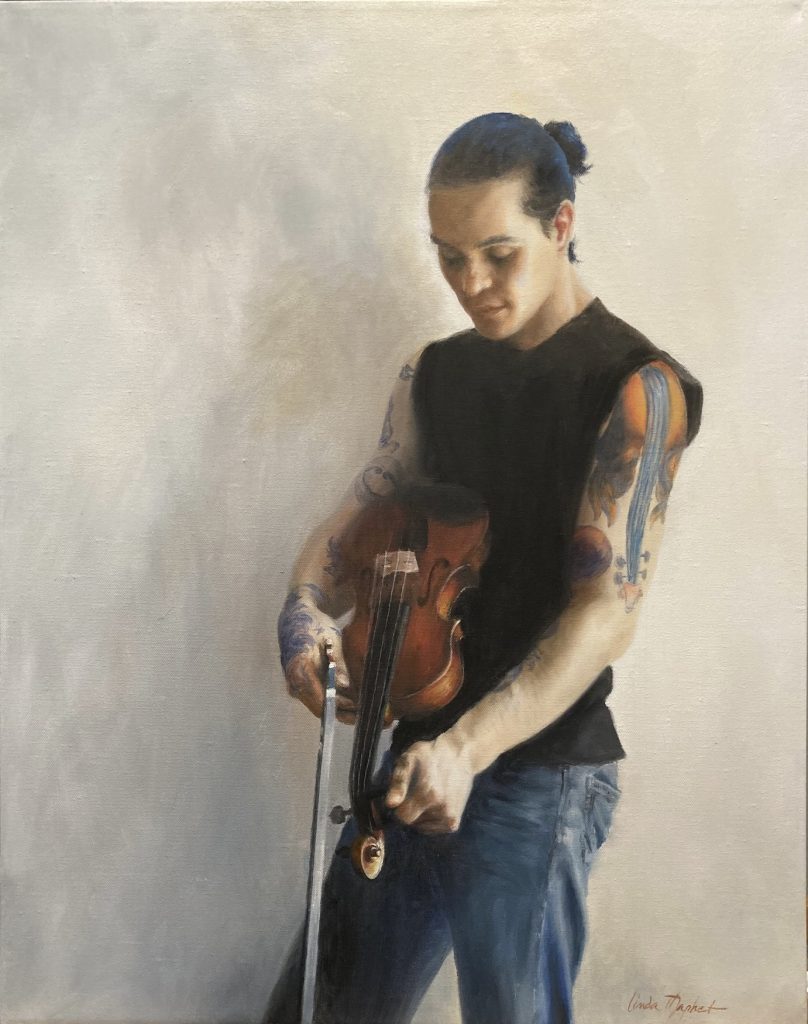 ABOVE: 2023 Spring Open Exhibition Award Winners, L to R: First Place, Adam the Violinist by Linda Maphet; Second Place, Money for Nothing Chicks for Free by Michele Smither; Third Place, Baby by Eric Nyros.
Fall 2023 Open Juried Exhibition.
Juror: Kerry Dunn
About the Juror: Kerry Dunn is a painter firmly established in the craft of old master pursuits. Kerry graduated from Ringling School of Art and Design with a major in illustration in 1999. Kerry later studied with world renowned portrait painter Nelson Shanks, and now serves as principal portrait painting instructor at Studio Incamminati in Philadelphia, an atelier specialized in old master oil painting.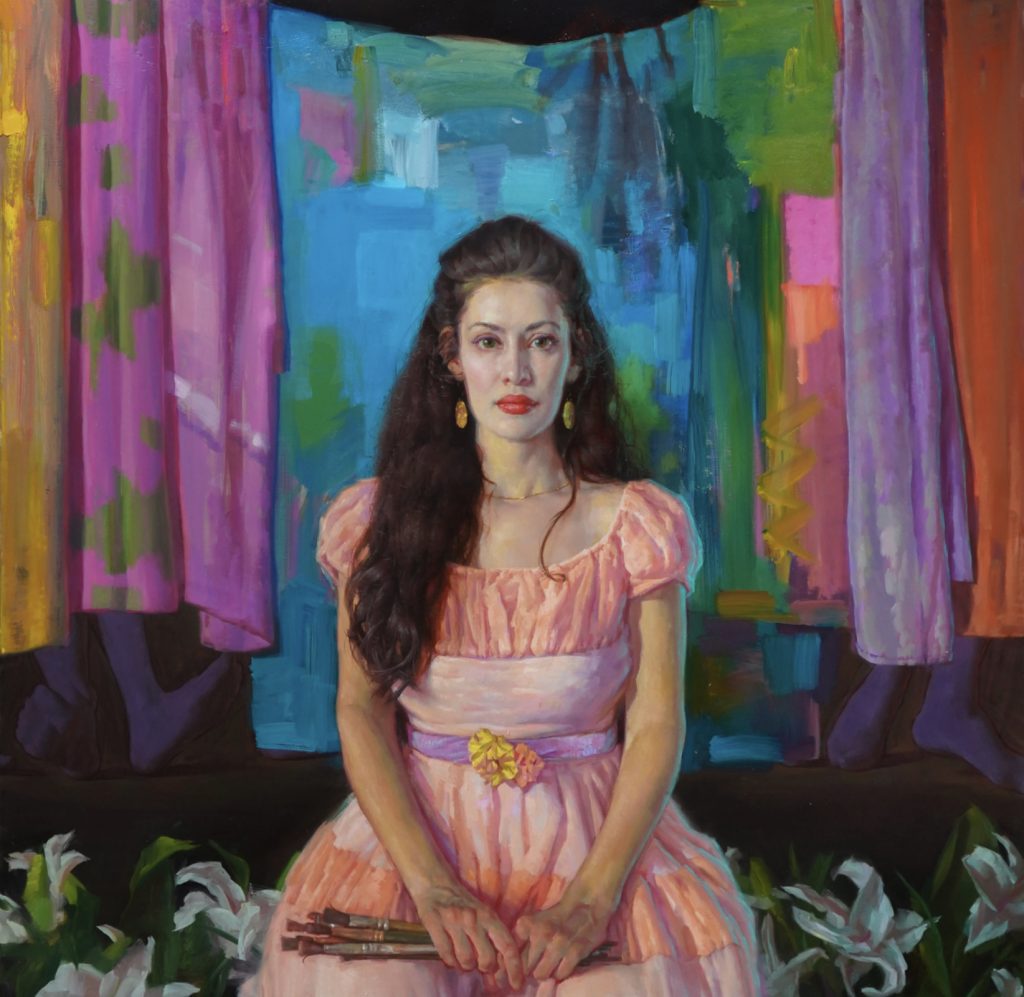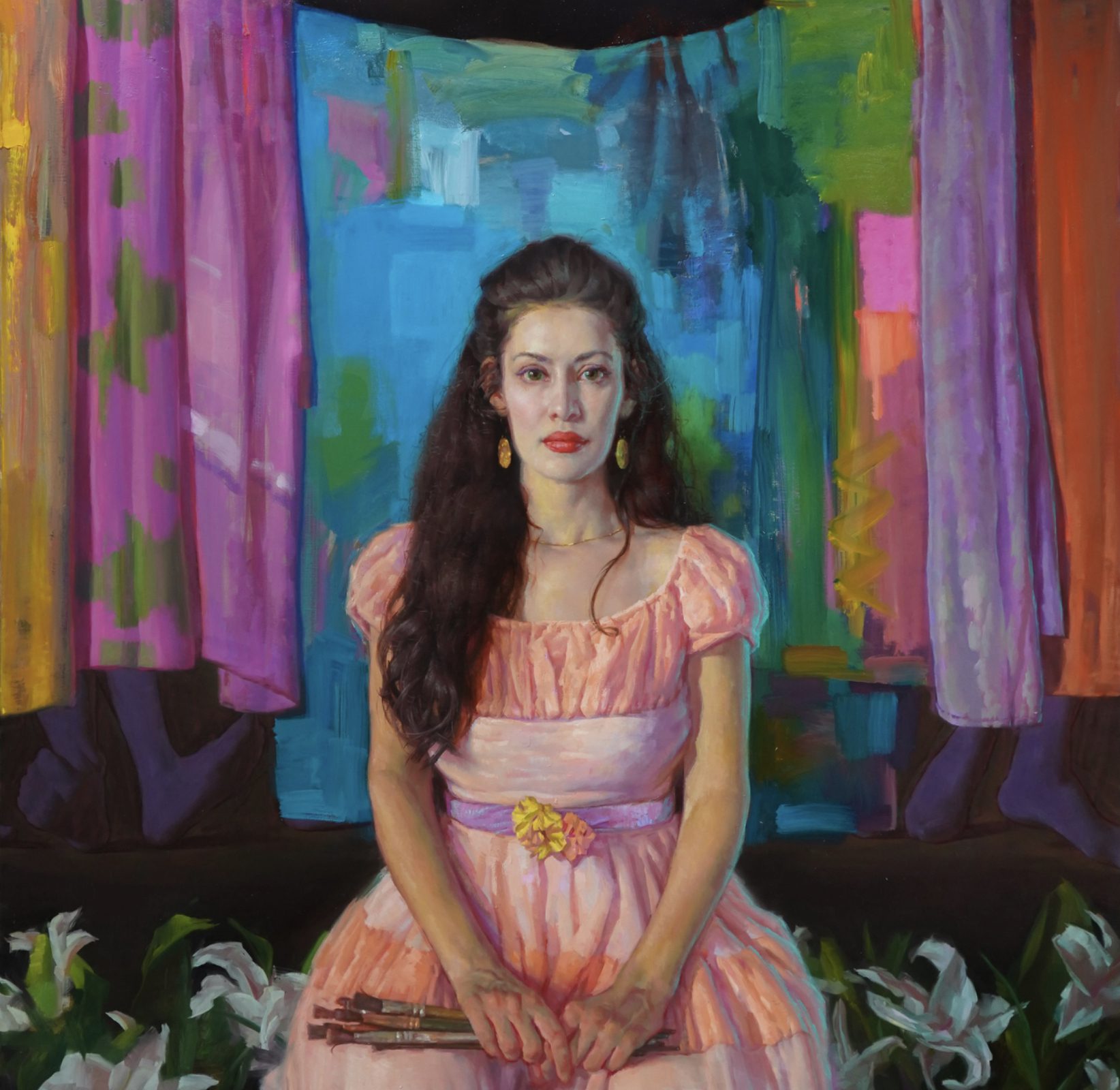 Kerry's main focus is on painting people and using line, form and color to communicate character, storytelling and spirit.
Also areas of interest are the Figure which communicates the human condition, Still Life which depicts the objects of our lives, the occasional Landscape painting which explores the beauty of mother nature and our surroundings, and finally Illustration which is an exercise in style and creativity. These subjects often find their way back into Kerry's main focus of painting portraits.
Kerry lives and works in the Tri-State area near Philadelphia, Pennsylvania, USA.
For more information on our juror, visit: kerrydunn.com
We're excited to announce our first show at the Alpharetta Arts Center Gallery.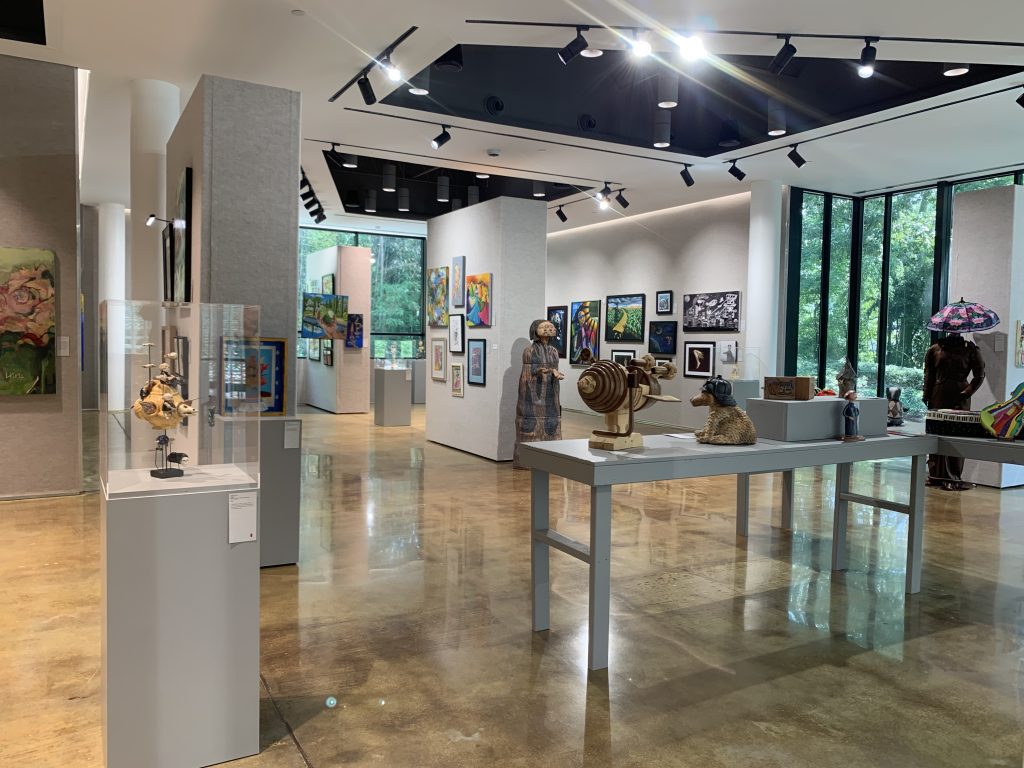 Opening Reception 5pm to 7pm on December 2nd. Arts Alpharetta is a vibrant active arts community and we look forward to our first PSA exhibtion at the Alpharetta Arts Center Gallery. Join us at the opening reception in this beautiful gallery for the awards presentation, hors d'œuvres and live music.
Read the prospectus here or download a pdf. Entry form below.
IMPORTANT EXHIBITION DATES:
Entry Deadline: Midnight Monday, October 16, 2023
Notification: October 31, 2023
Delivery of Art: The week of November 13-18 anytime during the Arts Center's open hours:
Monday through Thursday – 8:30am – 8pm
Friday – 8:30am – 4:30pm
Saturday – 10am – 4pm
Opening Reception: Saturday, December 2, 2023, 5pm – 7pm
Show dates: November 27, 2023 to January 20, 2024
Gallery hours: Monday-Thursday 8:30am – 8pm, Friday 8:30am – 4:30pm and Saturday 10am-4pm
Art Removal: Monday, January 22, 2024, 10am – 4:00pm
This exhibition is electronic submission only.
ARTIST ELIGIBILITY:
• This Exhibition is open to all artists—PSA members and non-members.
• Entry fee is $35 for up to four (4) pieces.
• Exhibiting members at the Juried Member level and higher are permitted to display business cards, and QR codes (linked to their website).
WORK ELIGIBILITY:
• Entries must be original, 2-dimensional or 3-dimensional fine art portraiture.
• Entrants may submit up to four (4) entries.
• No digital reproductions of originals (glicée, canvas prints, etc), copies, or student/class work are permitted.
• No photography or paintings-over-photographs.
• No nudes.
• Portraits must contain a human person, and at least an ear, eye or nose. Pets are acceptable only when accompanying a human.
• Entries must NOT have been exhibited in a PSA exhibition in the last 2 years, or ever won first place in any previous PSA exhibition, or been displayed in more than 2 prior PSA exhibitions. (Advisory Board contributions (not juried) are excepted). There is no age limit on when works were created.
• Size (including frame) must be at least 8" x 10", and may not exceed 72" (including frame) in either width or height.
• All paintings must be ready for hanging, with wire in place, in an appropriate gallery frame or gallery wrapped canvas. No sawtooth hangers will be accepted.
• Accepted works need to include identification on a 3" x 5" card on the back, stating: Title, Artist's Name, Medium, Size, Email Address, Cell Phone number, and Price, if for sale. If the artwork is Not for Sale (NFS), then state this along with the declared value. All art must have a declared value, even NFS work.
• Works submitted to any PSA show MUST be displayed for the duration of the show – no substitutes and no early removal. Please inform your client of the dates for which a borrowed work will be on view.
• Any artist who is unable to provide a painting that has been juried into a show will be penalized by not being able to enter the next exhibition.
PLEASE NOTE: The PSA exhibition committee reserves the right to decline artworks that do not fall within the field of portraiture, or are deemed inappropriate viewing for children. Entries that do not adhere to the guidelines will not be judged. At delivery, any work that varies from the submitted images will be disqualified.

DELIVERY AND DISPLAY:
All works must be delivered and picked up, either by the artist or authorized representative, within stated times at Alpharetta Arts Center. Artists are required to notify the Alpharetta Arts Center if an authorized representative is picking up artwork on their behalf. Authorized representatives will need to provide identification at pickup.
Delivery is allowed anytime during the Arts Center open hours the week of November 13 through 18:
Monday, November 13 – Thursday, November 16, 2023, 8:30am – 8pm
Friday, November 17, 8:30am – 4:30pm or Saturday, November 18, 10am – 4pm
Removal: Monday, January 22, 2024, 9am – 4pm only
Finalists must make their own arrangements for hand-delivery and hand-pickup of their work. Entries may be shipped directly to the venue. Entries that are shipped must include a pre-paid return shipment label as well as advance arrangements and payment of a courier to pick up art. All shipping expenses / insurance are the responsibility of the artist. Uline or FedEx art packaging with the art floating between soft foam is strongly recommended.
PSA ACCREDITATION:
This exhibition qualifies for PSA status credit. Only members' work not previously juried into a PSA exhibit will receive accreditation points toward membership status.
INSURANCE: Insurance is the sole responsibility of the artist. The PSA does not provide additional insurance and is not responsible for possible loss or damage to works. By entering, artists agree to not hold the PSA liable for any loss or damage.
SALES: Works do not have to be for sale. Your price, or NFS, must be indicated on your entry. If sales occur, the gallery designates Arts Alpharetta as facilitator for all sales. The gallery will communicate all sales with the Artist. There is a 70/30 split in sales, with 70% going to the artists. The gallery will retain a commission of 30% for each work sold during the term of the exhibit. (Gallery will then issue 50% of all sales commissions to the Portrait Society of Atlanta, yielding 15% for each organization.)
RIGHTS: The PSA and Alpharetta Arts Center reserve the right to photograph and retain images of the exhibit solely for educational, promotional, and documentation purposes in print or on the internet. By entering the exhibition, you agree to all conditions herein.
ENTRY FILE PREPARATION:
Save and enter image file in JPG (JPEG) format.
Size image so the largest dimension is no more than 2000 pixels, either side. (Do NOT include your frame in image)
Very Important: Name your image file with dashes as follows: LastName-FirstInitial-Title-of-Artwork.jpg Example: Sargent-J-Lady-Agnew.jpg, entries that are not properly named may be excluded from judging
Enter using the link below by October 16, 2023.
QUESTIONS: Ruby Mason at 404.725.3271 or ruby.mason@comcast.net
TECHNICAL PROBLEMS: Margaret Garrett at 404.290.8086 or maggieannod@gmail.com
SUBMIT ONLINE BY CLICKING BELOW: