September 4, 1938 — July 26, 2023
MEMBER OF MERIT | ADVISORY BOARD MEMBER | PAST PRESIDENT 1993-95
Damon loved the process of painting.
He believed that Picasso said it best with this quote:
"Art washes away from the soul the dust of everyday life."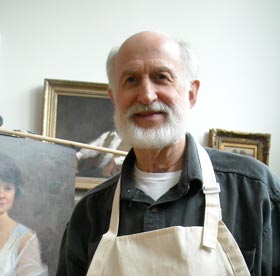 Advisory Board member, Damon Carter, was one of the Portrait Society of Atlanta's best for several decades. He was a masterful talent and gifted teacher. His many volunteer contributions to the PSA included serving as a Director on the Executive Board overseeing Programs, then as President and Immediate Past President, as well as later joining the Advisory Board as a lifetime member. In 1987, he designed and hand-inked our logo and it remains in use as our organization's official logo. He continually volunteered his time and talents through educational presentations, leading critique sessions, workshops and tours of his studio. He was a beloved teacher to many of our members over the years and was eager to help whenever asked to serve until his health waned a few years ago and he retired to go live near his son, Greg, in California.
Damon graduated from the University of Georgia with a BFA degree and began his career as an illustrator and graphic designer in 1961. Among his numerous honors are two finalists' certificates from the prestigious International Cleo Awards.
However, his first love, portraiture, became his prime focus with notable clients such as Mr. Ted Turner and Ambassador Andrew Young as well as a host of other collectors. In 1989, he was honored as a finalist in Artist Magazine's National Portrait Contest from a field of over 10,000 entries. He also excelled at plein air painting and in 2011 was juried into the Oil Painters of America's National Show in Coeur d'Alene, Idaho. His portrait commissions were brokered through Portraits South in Raleigh NC, while landscapes and other works were carried by Lagerquist Gallery in Atlanta, GA, and 1401 Gallery in Chattanooga, TN.
Damon believed a true artist never stops learning. He frequently studied the Masters in art museums, galleries, and his studio library. Over the years, he also studied with leading artists such as Nelson Shanks, David Leffel, Burton Silverman, Richard Whitney, John Howard Sanden, Matt Smith, Scott Christensen, and more, as well as longtime PSA Advisors, Jim Schell and Marc Chatov.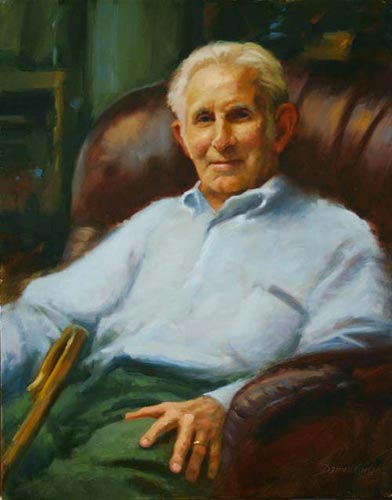 In addition to his significant role in the Portrait Society of Atlanta, Damon was a member of the Oil Painters of America, the Portrait Society of America and the Plein Air Painters of Georgia.
The Portrait Society of Atlanta as a whole recognizes the generous educational contributions Damon Carter provided our members over his many years with us. Here are a few commemorative thoughts from some who knew him best: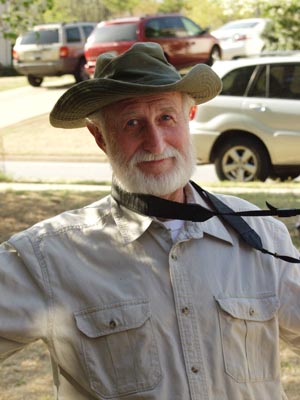 PSA Advisory Board Member Marc Chatov:
"I met Damon in my father, Roman's, painting class. He studied with Roman for a brief time. But where I really got to know him was on a trip to Colorado when we went to a plein air workshop in the mountains. Bill Davidson was with us, too, he was a complete beginner at the time. Damon was by far the most experienced. The three of us 'Atlanta boys' hung out together the whole workshop. We had 10 different instructors who would all come by and give instruction. One day we all had a station; I was painting an old tractor and Damon and Bill were up the hill painting aspens. It started raining. At first, we kept painting but then it started raining and snowing so hard we couldn't get the oil to stick to the canvas. We finally gave up and went back to the lodge and gathered around the fireplace where we talked and laughed for hours. Damon was incredibly funny, with a witty, dry sense of humor, very much on point. He will be greatly missed."
Past PSA President Tracy Snyder:
"Of course, Damon loved to paint and was happy to share his talent with those of us eager to learn. I painted with him many times and learned tremendously from him.
Damon was a dear friend, not just to me but to my whole family. He was like a member of the family. Damon had a great sense of humor and enjoyed a good meal. Fortunately for us both, my wife is a good cook. So we enjoyed many meals and many laughs together. My kids grew up calling him Uncle Damon, and my wife called him Brother Damon. He attended our kid's baseball games, recitals, school plays, and birthday parties. That's what comes to my mind most when I think of Damon.
Above all, Damon was a faithful Christian. He liked to sing, and he sang in his church choir at First Baptist Church Woodstock. He also wrote poetry."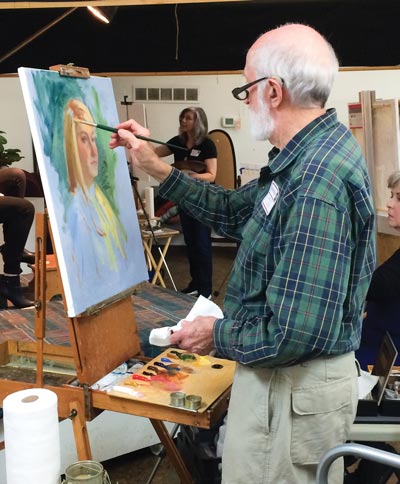 PSA Advisory Board Member Nancy Honea:
"Damon was a blessing in my life for over 45 years. He was so much fun with his jokes and ready laughter, and we loved to talk about art. He and I became even better friends painting together at Jim Schell's teaching studio on the Chattahoochee River. I had a painting block from doing so many portraits. Jim, also a dear friend, invited me to come to his group, and just paint for fun. When he came by my easel, he would remind me to have fun. And I did!
Those were great days. Damon, Jim and I would often stay after class and talk art. The teaching studio had a back wall of glass looking out 100 feet from the river bank where sculling boats went by all the time. One day Damon and I decided to stay and paint the river. Painting together and laughing is one of my enduring memories and a favorite painting that I have never sold.
Damon was a kind person. Over our years of friendship, we encouraged each other in painting, teaching art, and work in the Portrait Society. I am sad he has left the earth. He is missed."
PSA Advisory Board Member Ernest Varner:
"You were very blessed if you were able to study with Damon, benefit from his wisdom, and paint in the presence of a living master and friend. On a more personal note, Jackie would often bring him some "orange paint" that she had made — Code words for small sweet potato pies. Damon loved sweet potato pies and would rarely share them. He will be truly missed!"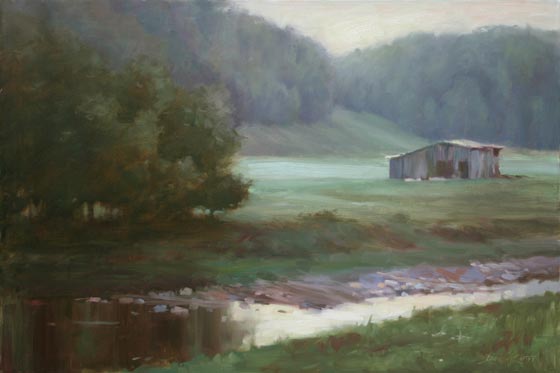 PSA Advisory Board Member Thomas V. Nash:
"I was saddened to hear of the passing of long-time friend and fellow artist Damon Carter. He was a multitalented talented artist who was passionate about his work. Damon designed the logo for the Portrait Society of Atlanta, and I think of him each time I see it. All those that knew him will miss this soft spoken, kind and generous man."
Student Marylin Beatty:
"Damon saw his students as pure potential. He inspired us to push through our limits and set higher expectations for ourselves. I could never thank him enough."
Student Jenny Brahm:
"Damon was a kind, gentle teacher and mentor to me and those of us who were lucky enough to paint at his home studio. He always greeted us with those twinkling eyes and often entertained us with his lovely poems. I will miss that sweet man and always remember his words, "Break those edges!" He has broken the edges of my heart."
Memorial website. Visit the artist's website for more details about his career and achievements as well as examples of his work.