Fall 2022 Juror: Thomas Caleb Goggans
Location: Sewell Mill Library and Cultural Center
September 15 thru October 31, 2022
2051 Lower Roswell Road, Marietta, GA 30068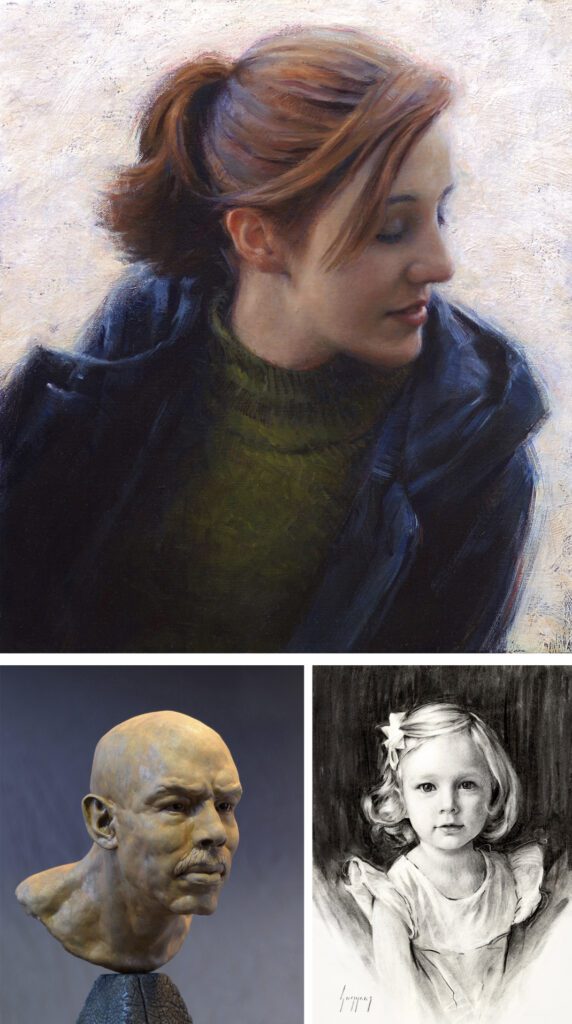 About the Juror:  Thomas Caleb Goggans has been named as a Top Ten in Tennessee artist by the Portrait Society of America, and recognized multiple years with awards in the prestigious International Portrait Competition. A contemporary naturalist painter, outdoorsman, and art instructor, Goggans portraits and paintings are sought after and can be found in public and private collections across the country.
Having studied with internationally acclaimed painters from the age of eleven, Goggans received his formal training at the rigorous Lyme Academy in New England as an Adams, Wardlaw, and National Merit Scholar. After graduating with honors, he was drawn back to the hills and streams of Appalachia, where he established his studio on Signal Mountain, TN. Goggans' work explores the rich contrasts of human experience through painting, drawing, and sculpting portraits, the human figure, and landscapes. Extending well beyond technically faithful reproductions, his artwork is the result of intense observation and enthusiastic curiosity. Finding inspiration and imagination in nature, life's passages, and the people he meets, Goggans explores the rich opportunities to express the beauty he finds all around him.
In recent years, Goggans' dedication and skill has brought him many accolades, consistently earning placement and awards in international competitions. Significant recognitions range from being featured in prestigious art conferences and museum presentations to being awarded major commissions such as sculpting multiple Congressional Medal of Honor Recipients for the Charles H. Coolidge Museum, a National Medal of Honor Heritage Center.
For more information on our juror, visit: thomascalebgoggans.com
At left, by Caleb Goggans: Top row: Transient, oil, 18"x19"; Far left: The Buffalo Soldier, wood and ferrous resin, 28w x 12xh x 13d; Left: Cate, charcoal 12"x16"

IMPORTANT DATES:
Entry Deadline EXTENSION: midnight Tuesday, August 9th 
Acceptance Notification: August 24th
Art Delivery: Monday September 12th from 10:30am to 1:30pm
Opening Reception: Saturday, September 17th from 5pm to 7pm
Art Removal: Monday, October 31st from 10:30am to 1:30pm
GALLERY HOURS: Monday-Wednesday 10am – 8pm; Thursday – Friday 10am – 6pm; Saturday 10am – 5pm; closed Sunday.
DOWNLOAD OR VIEW ROSPECTUS HERE: LINK 
ARTIST ELIGIBILITY:  
This Exhibition is open to

PSA members only.

If you're not a member of the Portrait Society of Atlanta and would like to enter,

we invite you to apply for membership here:

APPLICATION LINK.

  If you're not sure if your membership is current, please verify status here before entering:

info@portraitsocietyofatlanta.org

 

 

Entry fee is $35.

 

Exhibiting members at the Juried Member level and higher are permitted to display business cards and information during this show if space is provided. 

 
 WORK ELIGIBILITY:  
Entries must be original, 2-dimensional fine art portraiture.

 

Entrants may submit up to three (3) entries. 

 

No prints, copies or student/class work are permitted. 

 

No photography or paintings-over-photographs. 

 

No nudes. 

 

Portraits must contain a human person, and at least an ear, eye or nose. Pets are acceptable only when accompanying a human. 

 

Entries must NOT have been exhibited in a PSA exhibition in the last 2 years, or ever won first place in any previous PSA exhibition, or been displayed in more than 2 prior PSA exhibitions.

(Advisory Board contributions not in competition are excepted). There is no age limit on when works were created.

 

Size (including frame) must be at least 8.5" x 11", and may not exceed 4'6″ in either width or height. 

 

All paintings must be ready for hanging, with wire in place, in an appropriate gallery frame.  No sawtooth hangers will be accepted.  

 

Accepted works need to include identification on a 3"x 5" card on the back, stating: Title, Artist's Name, Medium, Size, Email Address, Cell Phone number, and Price, if for sale. If the artwork is Not for Sale (NFS), then state this along with the declared value. 

Works submitted to any PSA show MUST be displayed for the duration of the show – no substitutes and no early removal. Please inform your client of the dates for which a borrowed work will be on view.

 

Any artist who is unable to provide a painting that has been juried into a show will be penalized by not being able to enter the next exhibition.

 
PLEASE NOTE: The PSA exhibition committee reserves the right to decline artworks that do not fall within the field of portraiture, or are deemed inappropriate viewing for children. Entries that do not adhere to the guidelines will not be judged. At delivery, any work that varies from the submitted images will be disqualified. 
DELIVERY AND DISPLAY:  
All works must be delivered and picked up,

either by the artist or authorized representative,

within stated times at Sewell Mill Cultural Arts Center. 

 

Delivery: Monday, September 12, 2022, 10:30am-1:30pm only 

 

Removal: Monday, October 31, 2022, 10:30am-1:30pm

only 

 

Final

ists must make their own arrangements for hand-delivery and hand-pickup of their work from the venue.

NO entries may be shipped to the venue.

Special accommodation may be made for out of town PSA MEMBERS to ship artwork to a local PSA volunteer.

All shipping expenses / insurance are the responsibility of the artist. Call the Exhibitions Chair Ruby Mason (number below) prior to entering the competition to confirm that this option is available for this exhibition.

 
PSA ACCREDITATION:   
This exhibition qualifies for PSA status credit. Only members' works not previously juried into a PSA exhibit will receive accreditation points toward membership status.

 
INSURANCE:  Insurance is the sole responsibility of the artist. The PSA does not provide additional insurance and is not responsible for possible loss or damage to works. By entering, artists agree to not hold the PSA liable for any loss or damage. 
 SALES: Works do not have to be for sale.  Your price, or NFS, must be included with your entry. If sales occur, Sewell Mill Cultural Center then requires the individual artist to become a vendor with Cobb County.  The process for payment takes 6-8 weeks after the close of the exhibit.  There is a 70/30 split in sales, with 70% going to the artists. 
RIGHTS: The PSA and Sewell Mill Cultural Center reserve the right to photograph and retain images of the exhibit solely for educational, promotional, and documentation purposes in print or on the internet. By entering the exhibition, you agree to all conditions herein. 
ENTRY FILE PREPARATION:  
Save and enter image file in JPG (JPEG) format. 

 

Size image so the largest dimension is no more than 2000 pixels, either side.




(Do NOT include your frame in image) 

 

Very Important:

Name your image file with dashes as follows: LastName-FirstInitial-Title-of-Artwork.jpg Example: Sargent-J-Lady-Agnew.jpg, entries that are not properly named may be excluded from judging

 

 Enter using the link below by August 6, 2022.

 
QUESTIONS: Ruby Mason at 404.725.3271 or ruby.mason@comcast.net  
TECHNICAL PROBLEMS: Margaret Garrett at 404.290.8086 or maggieannod@gmail.com   
SUBMIT ONLINE BELOW: