By Ashley Hawkins Stewart
The Portrait Society happily welcomed members to its first in-person meeting in almost two years. Held at the North Shallowford Annex in Dunwoody, the meeting was very well attended by around 35 members.
The meeting featured a delightful pop-up show of current member work. Thirteen paintings and drawings ranging from preparatory sketches to finished and framed pieces were included. The show generated lots of discussion around personal working processes. Who knew egg tempera had such a glow to it? And a large painting of a Native American woman with a complimentary-colored cowboy silhouette in the background was divine.
The pop-up show was accompanied by a beautiful holiday cookie spread to which many of the talented members donated. 
The presentation was given by Carol Baxter Kirby, who brought three beautiful portraits (one fresh off the easel) to show examples of her color palettes. She then walked through her process of mixing skin tones. After many years of studying her craft,  she has distilled a process which she generously shared.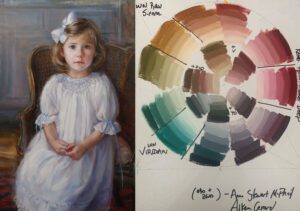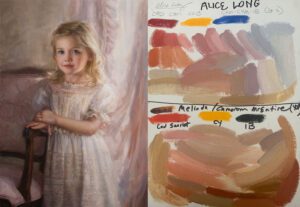 At the core for her is finding the right color chord for each piece, which she strives to make harmonious. This basic chord contains a red and yellow of a particular piece. From those arise the midtones, tempered by blue, green, or black. It is the midtones that receive the most attention when mixing the color chord. In investigating for each painting, she creates a color chart with mixtures from the selected palette, plus additions of titanium white. She then makes extensive notes about the process and refers to those notes for other paintings.
A few of her favorite chords are: permanent madder deep/raw sienna/viridian; cadmium red deep/cadmium yellow medium/cobalt; cadmium scarlet/cadmium yellow medium/ivory black. When mixing she asks herself questions—the most important of which is, "is this color BEAUTIFUL?"
In conclusion, Mrs. Baxter Kirby reminded us not to think too hard but instead to ask the right questions of ourselves throughout the process. Great advice, and I will enthusiastically apply this technique!
Carol Baxter Kirby's presentation on color harmony can be seen on YouTube here: https://youtu.be/ZAmiA29cQFA