By Anne Amin
The Portrait Society of Atlanta welcomed Mary Villon de Benveniste, a world-renowned artist, to our January 28, 2020, meeting.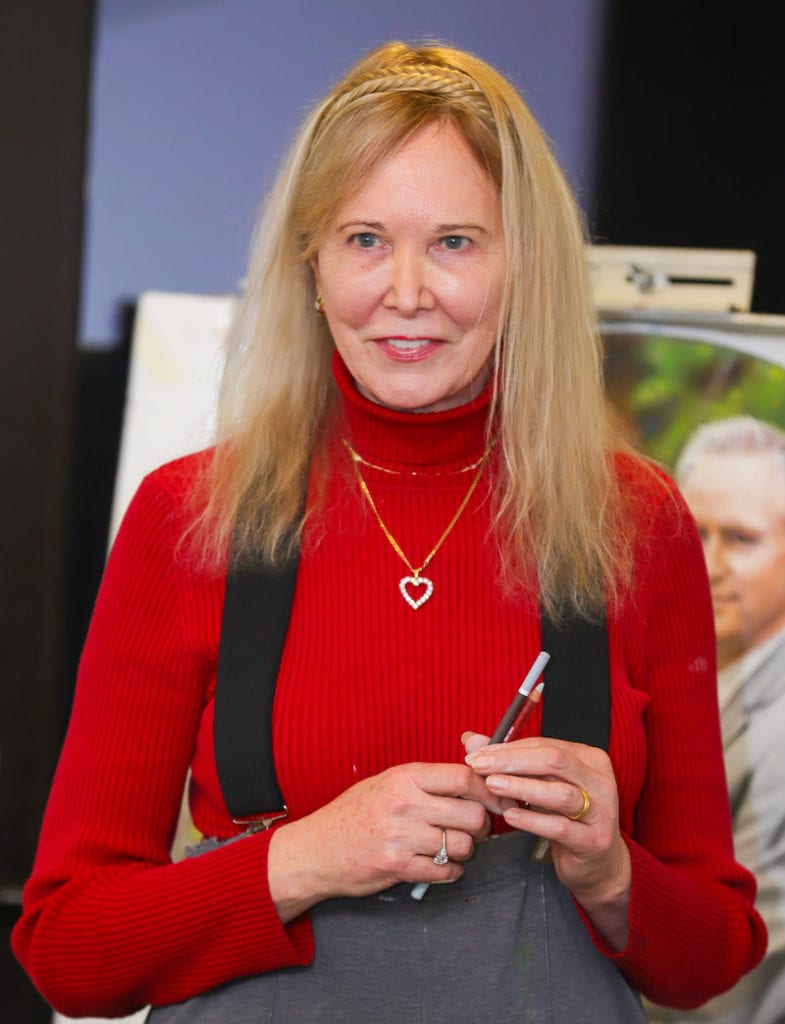 Mary Villon de Benveniste has built her reputation as a portrait artist on both sides of the Atlantic. As a child she was fascinated by colors and paints, and growing up, loved drawing her siblings and pets—cats, dogs and horses.
After graduating from Carnegie-Mellon with a BFA in Painting, Design and Sculpture, she later moved to Paris to work as a fashion model where she met her future husband, François, had two children and remained for most of her life. Her growth as an artist was fueled by courses at the Louvre in life drawing and portraiture, and detailed studies of her son and daughter, Guillaume and Isabelle. After contributing portraits for a benefit at her children's school, numerous requests for commissions soon followed, and she now has a repertoire of hundreds of portraits.
Her work has been shown in many venues in France, including Le Salon des Indépendantes (Grand Palais, 1990 to 1995), the American Cathedral in Paris, the Mona Bismarck Foundation, and many solo exhibits at the Marymount School, and the American School in Paris. Her clientele extends from Surrey, England, Atlanta, Greenwich, Virginia, Jacksonville, Dallas, Kingman (AZ), to Jackson Hole. Notable portraits include First Lady "Lady Bird" Johnson, The Honorable Pamela Churchill Harriman (United States Ambassador to France), Joseph P. Riley, Jr., Mayor of Charleston, Cambridge Trott, IV, President of the South Carolina society, and Dean emeritus William F. Pounds, (Massachusetts Institute of Technology). A portrait of George and Barbara Bush which was painted just after the September 11th attack now hangs at the Presidential Library in College Station, Texas. Currently her portraits hang from Dubai to Paris, Milan, England, a castle in Scotland, and throughout the United States.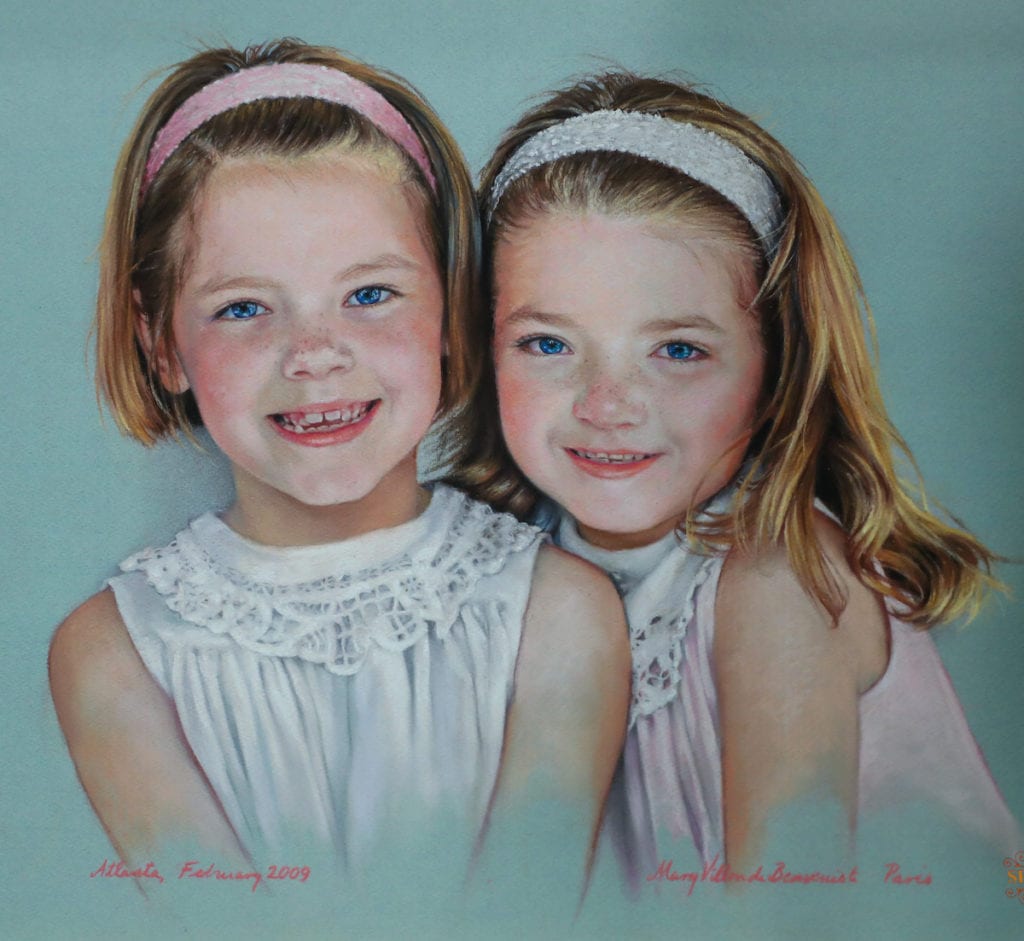 She has an active Facebook following, and media distinctions include the Atlanta Magazine, NPR News, the Embassy News, (Paris) the Carnegie Mellon magazine, the Atlanta Journal Constitution, the Clayton Tribune, the Post and courier, (SC), Élan magazine (VA) and "Fairuz" (the Vogue of the Arab World).
Portrait Process
Mary's work with children as well as adults involves a photo session where she tries to keep her subjects entertained and happy—at their best. Boredom is the enemy. These images are reviewed with the client, and together they pick out some favorites which are then used in her composition. The image is then transferred to canvas, paper or pastel board utilizing a grid system. She lays in the basic shapes, carefully establishing facial features, then moves on to the rest of the portrait. After each working session, she takes photos with her iPad to record progress, and to allow her to study and decide upon the next steps. The iPad also serves as an excellent tool for revealing details and the true colors of her subjects.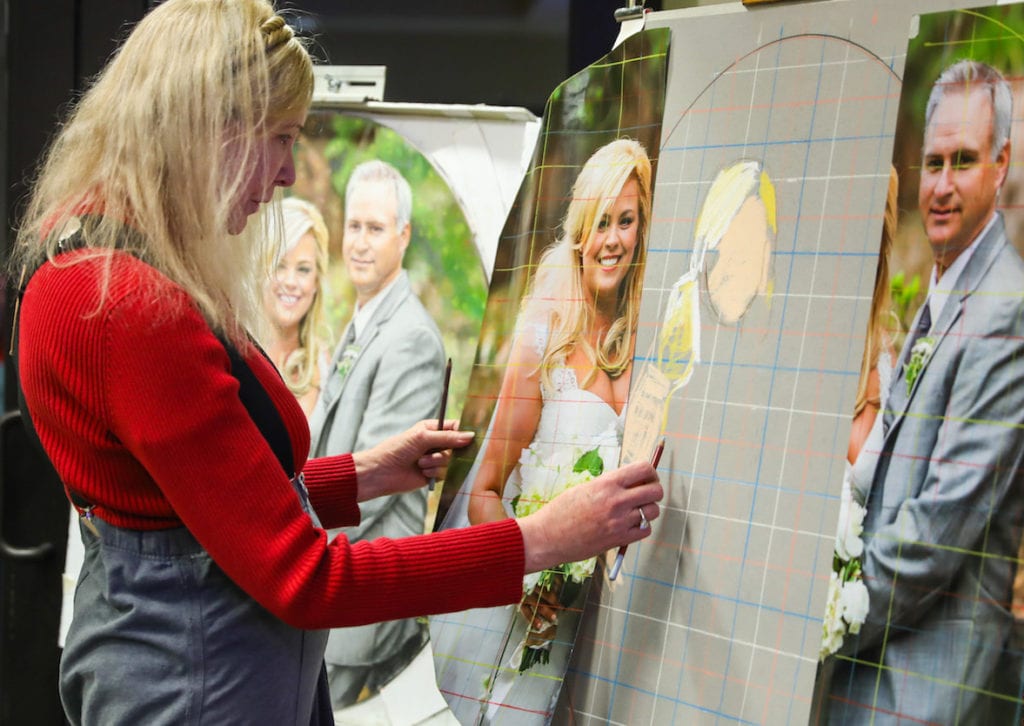 Regardless of the medium used, Mary's portraits are created using ever-increasing abstract patterns of light and shadow—the light flowing across the subjects reveals their forms and textures. She likes to work in mediums that can be built and changed. When working in oil she works in transparent layers, in pastel, she aims for velvety and/or crisp textures, and in sanguine, she uses a kneaded eraser to remove pigment and obtain depth and luminosity.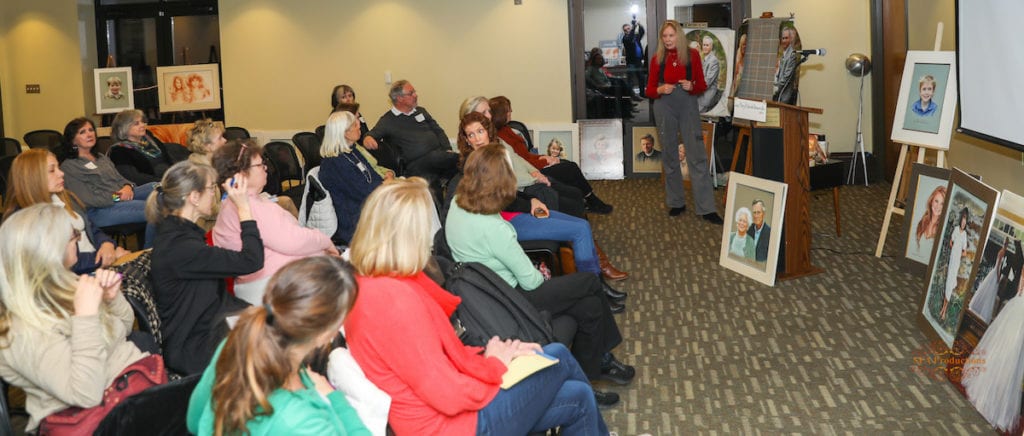 Mary uses a filtering technique—"I don't paint what I see, I abstract what I like." She sees herself as a conduit for the images that emerge and the abstract elements of composition, shapes, lines, and textures create portraits that are both realistic, emotive, and beautiful.
When not painting, Mary Villon de Benveniste enjoys life with her husband, Peter Hollings in their two hundred-year-old plantation home, Whispering Oaks, near South Carolina. 
To learn more about the artist, click here: www.MaryVillonDeBenveniste.com
Photos by Vinod Sharma