By Luana Luconi Winner
Who could have known that a star baseball player from a large Italian family in Pomona, New York, would become one of the world's living masters of the 21st century's renaissance of realism and classical figurative art. Or that his portraits today would include the 41st President of the United States, George H. Bush, Ambassador Sol Linowitz, Marc Pachter, Director of the National Portrait Gallery, and General Wallace M. Greene, among others.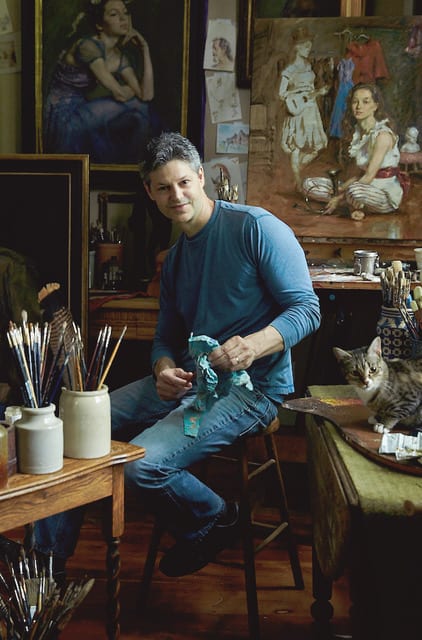 Robert Liberace left Rockland County, New York, to attend George Washington University, in Washington, DC, on a baseball scholarship. While attending GWU, he expanded his horizons to develop his love of art. Although he had been intrigued by Hogarth's "Dynamic Figure Drawing" as a child, it was his first figure drawing class from GWU art instructor Brad Stevens that shaped his future. 
With his love of the figure, his goal was a complete understanding of anatomy, the dynamic movement of the figure, and the techniques of classical drawing and painting, influenced by the old masters. Two instructors, Brad Stevens, and later, Frank Wright, led him through a series of studies, just as the masters had done with their students centuries before. 
After Liberace finished his Bachelor of Liberal Arts, he applied for the prestigious Morris Louis Scholarship, which offered tuition and a stipend to pursue a Master of Fine Art degree at GMU. Stevens encouraged his application, which he won with a portfolio replete with a sophisticated grouping of figure and portrait studies. The skills exhibited not just correct musculature and proportion, but also depth of emotion and impending motion.
This scholarship freed him to concentrate on honing his skills. With Frank Wright, whose background included years of living and studying in Tuscany and Paris, Liberace developed an even deeper love of the old masters. Wright encouraged travel, copious drawing, and study of techniques to refine his paintings. Under this influence, he visited the print and drawing rooms at great museums, reserving these works to study and copy on his own. 
Liberace's animated contrapposto images display torsos twisting the body with a natural sense of movement. Using pentimento, he shows unfinished lines and changes that evolve as the drawings develop. He imbues the figure with character, natural activity, and fluid motion. Early on, he was working on single figures, showing pentimenti, unfinished lines, and changing positions to foster a sense of action. "I was even doing this in college." 
He continued to research old papers and drawings full of character, and to explore anatomy and the mechanics of the body. That led him to artists such as Bernini, Michelangelo, and the photography of Eadweard Muybridge. He learned how to show expressions of the figure based on particular actions and in transition. Michelangelo's four prisoners, the non finito or unfinished Dying Slave, Awakening Slave, Bound Slave, and Rebellious Slave inspired Liberace.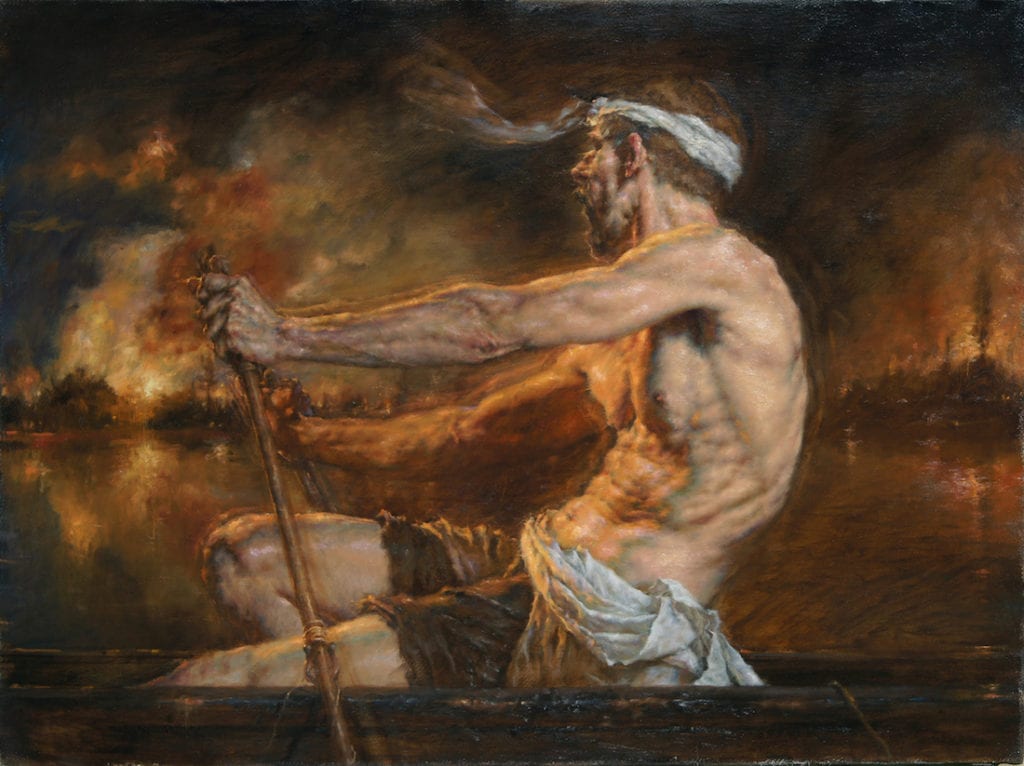 "Michelangelo had a powerful impact on me and gave me the interest to express myself and show the figure in classical language to express the body." 
Like so many Italian artists before him, Liberace is not only a painter, but also a sculptor. "When I first got into the art program in college, sculpture was my focus, but nothing was available at my school. So, I focused on painting until after grad school. On my own, I began contacting experienced sculptors. I learned how to build an armature and work with terracotta. It was pretty rough. It was exhausting. Instead of formal training, I attended open studios, demonstrations, and any opportunity to learn from observation." Today some of his sculpture installations include Our Lady of Vaillankanni (marble), Mother Teresa (terracotta) in the Basilica of the National Shrine of the Immaculate Conception in Washington, DC, and sculptures at Our Lady of Mercy Church in Potomac, Maryland.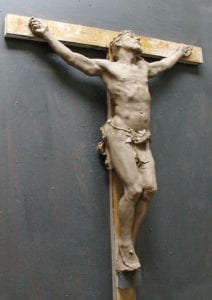 In an effort to learn the skills of plaster work, he connected with the Giannetti Studio in Brentwood, Maryland. "I wanted to know how they made their plasters. That friendship with Bob Giannetti led to my first commissions in sculpture." He had plans to continue carving in marble. But it was so physically demanding to move between three-dimensional and two-dimensional work, and difficult to get regular commissions, that he decided to focus on two dimensional creations. 
He explained why it is a valuable thing to work as a draughtsman and a painter with the understanding of a sculptor. "It gives you a different perspective in how to apply a paint stroke. There is a different way it allows you to approach the paintings." 
Talking about the human figure and the need to be true to the structure, he said "All the painters—Degas, Sargent, Zorn, Michelangelo—every artist had a curiosity about it. If you work in a realistic manner, you develop a facility to work in that manner." 
The first four years of the new millennium brought new exposure for his work: including a cover story in a major art magazine in 2000; "First Honors" in the Portrait Society of America exhibition for Russell in 2001; at the age of 36 in 2002, he won the Draper Award and the Grand Prize again at the Portrait Society of America, for his portrait of Steven Honigberg, cellist for the National Symphony Orchestra. Then Rob was elected a Living Master of Art Renewal Center in 2003, with the encouragement and assistance of his wife, Lina. 
About winning the 2002 Grand Prize, he said, "This change gave me access to the world of commissioned portraits in a way that I never had before. People knew about me. It led to connecting with a lot of artists and opportunities. I am very grateful to them, and to the fact that they put on an event like this for the artists." 
Married for over 20 years to Lina—a successful artist, illustrator, and sculptor—family is at the heart of his work and life. Daughters Ava and Celia carry on the family tradition. Ava, the younger daughter, is a budding artist. Celia, the elder daughter, is pursuing art in earnest and won her own recognition with the first place award in the DaVinci Initiative category for ages 19 and under, at last year's Art Renewal Center worldwide competition. She participated in the opening celebrations in Barcelona.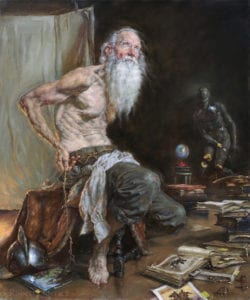 Asked how he is inspired by all the artistic women in his life, including his mother, author/poet Marie Liberace, he answered among other things, "With all the work that Lina does sculpting and making frames, she is a beautiful illustrator. And her efficiency has had an impact on me. To be able to perform like the greats Rockwell and Pyle, to have the short deadlines and meet them! By example, it especially helped me through my gallery shows. My Mom is another one who doesn't stop. Still constantly writing! It is inspiring." 
Asked about the three things that changed his trajectory in his career he said, "First, the figure drawing class at GWU with Brad Stevens. That first day marked a very dramatic change in my life and put me on a new course. Second, meeting up with Frank Wright who inspired my great devotion to the beauty of classical art. And third, my wife, Lina, who was also devoted to her art and encouraged and helped me throughout my career. I couldn't have done it without her support. Those three people had the biggest impact." 
He continued, "The most significant events after that first class were the first articles M. Stephen Doherty, Editor in Chief of American Artist Magazine, wrote about me. It was the one magazine everyone was reading at the time. Then he put me on the cover of the magazine in 2000. I had met him through Frank Wright. The articles helped, but the cover article really launched my career." Then he reiterated that the Grand Prize at the Portrait Society of America created the defining pathway for his international career today. 
As did masters of the past, he also instructs, teaching classes and workshops around the country. He takes students to study in Europe during Easter week, with mornings devoted to the museums, studying in the drawing and print rooms by request, and afternoon urban sketching. Summer trips to Bruges, Belgium, are modeled after his stateside classes, working in a friend's studio in an historic building with studio models. There are also occasional trips to Ireland with days both in the studio and outdoor capturing landscapes. 
Robert Liberace is represented by the John Pence Gallery in San Francisco, the Legacy Gallery in Scottsdale, and the Principle Gallery in Alexandria, VA. 
To visit his website, click here.
Space is limited for Rob Liberace's workshop at the Portrait Society of Atlanta.

To find out more or to register: click here.