Achieving a 40th Anniversary is a big event. To mark the occasion, the Portrait Society of Atlanta celebrated with a catered banquet in November 2019.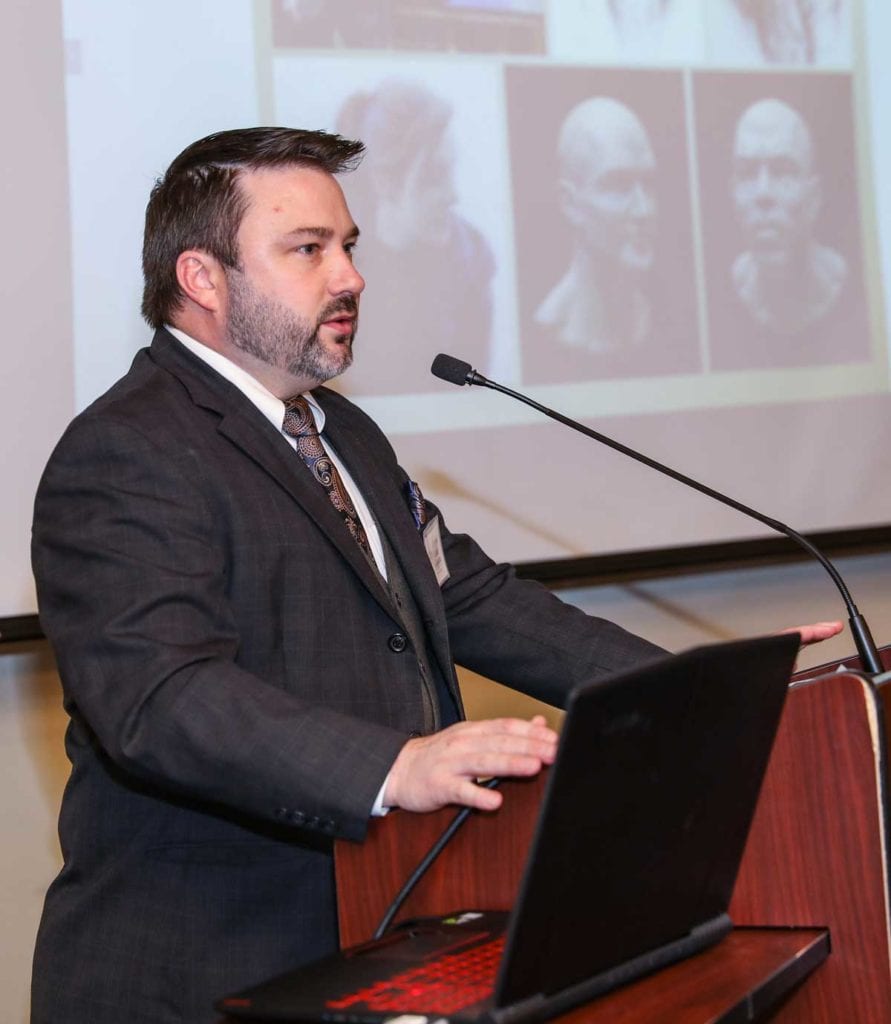 The evening began with a silent art auction, followed by a dinner, a review of our history, volunteer recognition certificate presentations, door prizes, and also included an inspirational talk from artist Thomas Caleb Goggans (right). Following the example of his mentor Gordon Wetmore, Tennessee based Goggans has been a behind-the-scenes volunteer with the Portrait Society of America for many years, and shared how rewarded he feels by volunteering his time and skills. For comparison, he noted that the Portrait Society of Atlanta depends on the engagement of member volunteers—and has reached this 40 year milestone only through their gifts of time. As Goggans' schedule is busy with commissions, and workshops which take him all across the country, we are very appreciative of the time he took to come and share with us on this special occasion.
To see more photos from this event click here to visit the Event Gallery.
Many thanks to all who helped make the evening a success.
40th Anniversary Volunteers
Co-coordinators: Suzanne Smith and Cheryl Mann Hardin
Advisors: Donna Leonard, Lora Hill, Nancy Honea, Earnest Varner
Internet marketing and on line registration: Donna Leonard
Slide presentation, programs, and name tags: Suzanne Smith
PSA history exhibition: Lora Hill
Event photographer, visual aids, and slide presentation: Vinod Sharma
Book sales and finances: Peggy Sullens and Angie Carroll
Registration table and door prizes: Anne Amin and Rose Payne
Banquet set-up and assistants: Nanybel Salazar and Carolyn Bouilliant-Linet
Appetizers and Folio coverage: Margaret Ann Garrett
Flower arrangements, door prizes, and auction: Cheryl Mann Hardin
Silent Auction Donations
Head Study, graphite—June Elizabeth Blackstock
Motherhood, oil—Marc Chatov
Annie Jefferson, oil—Cheryl Mann Hardin
Sunset on the Coast, oil—Cheryl Mann Hardin
Religious, gold ink—Lora Hill
Persimmons, oil— Nancy Blanchard Honea
Pink Peonies, oil—Carol Baxter Kirby
Forgive Them, oil—Donna Garrison Leonard
Antique Pull Toy, oil—Kathy Morris
Fall Apples, oil—Eric Nyros
Blond Study, oil—Suzanne Lavone Smith
Brown Jacket, oil—Suzanne Lavone Smith
Untitled, oil—Earnest Varner
Door Prizes
Binders Art Supplies & Frames
Dick Blick Art Supplies
Photo credit: Vinod Sharma