By Michael L Strickland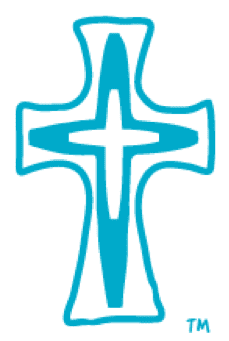 The portrait of Sister Michelle Carroll, R.S.M. (1921-2018) by prominent Atlanta artist Clyde Burnette (1923-2013), is a story of journeys and connections. The oil portrait, measuring approximately 40 by 30 inches and set in a gold frame, shows Sister Carroll dressed in business attire befitting her role as vice president of St. Joseph's Hospital. However, those who knew Sister Carroll would disagree that a stern appearance accurately represents her. Her life was spent in service to others and even after retirement, she continued to volunteer until no longer able.
Clyde Burnette's journey:
Clyde Burnette was born in Florence, South Carolina (1923) and had a natural talent for art. By the age of five he was creatively painting on old boards using red, yellow, blue, and white house paint. This early experience helped him develop a strong ability to mix colors, which he continued to hone throughout his career. Even after he was able to afford quality artist's grade paints, he preferred to use only 10 colors.
After serving in the Air Force during World War II, Burnette attended Pratt Institute to prepare for a career of 47 years working in illustration, advertising, and freelancing. He spent over 40 years at Burke Dowling Adams/BBDO, producing more than 12,000 pieces of commercial art, including major campaigns for Delta Airlines and General Motors.
In 1997, he retired and dedicated himself to painting, winning many prizes, and achieving commercial success. He was a Portrait Society of Atlanta Member of Excellence, and Signature Member of the Southern Watercolor Society and Georgia Watercolor Society. He produced over 100 paintings and 198 portraits, including this one of Sister Mary Michelle Carroll. In 2003, the founders of the Booth Western Art Museum commissioned Burnette to paint a portrait of the museum's namesake, Sam Booth, which today hangs in the museum's Main Hall. In the Booth's Research Library, you can find an informative presentation from 2003 (viewed by appointment only) in which Burnette discusses his long career. In 2012, Burnette's wife P.J. (also an artist) died, and he began clearing out his studio. Burnette passed away on April 22, 2013, of a broken heart after the death of his beloved wife.
Sister Mary Michelle Carroll's journey:
On Christmas Day in 1921, Patricia Carroll was born in Florida and later, upon entering the Sisters of Mercy, received the name Sister Mary Michelle Carroll, RSM (the RSM stands for Sisters of Mercy). After graduating from Florida State University with a degree in chemistry, Patricia Carroll went to work as a research chemist with the Florida Citrus Growers, and was instrumental in developing Vitamin C supplements for soldiers.
She entered the Sisters of Mercy in 1944, drawn by the scope of their work in healthcare, education, and social work. Sister Carroll earned a master's degree in education with a major in administration from Loyola College in Maryland in 1958. Her varied experiences led to a successful career where she was recognized for her in leadership abilities in education and healthcare. In 1979 Sister Carroll became Vice President for Sponsorship and Assistant to the CEO at St. Joseph's Hospital in Atlanta, Georgia. Under her leadership, St. Joseph's expanded considerably and made a positive impact on the community. She was involved in many of the decisions affecting the various Mercy healthcare institutions. Saint Joseph's Health System in Atlanta dedicated the Carroll Conference Center in her honor, and commissioned Clyde Burnette to paint a formal portrait in recognition of her contributions.
The Portrait's journey:
Burnette's friend, Lora Hill, reported that St. Joseph's commissioned the portrait for $25,000, a significant amount at the time that speaks to the importance of Sister Carroll's contributions to the hospital and the community at large. The portrait hung at St. Joseph's Hospital until 2012, when the hospital was merged with Emory Healthcare. During the redecoration of the facilities, the portrait was returned to Clyde Burnette, who, at the time, was clearing out his studio after the death of his wife. Because he felt this painting was special and he wanted to be sure that it was not just thrown out or « taken to the curb » after his death, Burnette entrusted the portrait to Lora Hill.
Ten years later, in 2022, Hill felt it was time to find a more permanent location for the portrait. Knowing that she was Catholic, Hill enlisted the help of her friend and fellow PSA member Rose Payne. Payne did some research and in May of 2022, she personally delivered and presented this portrait to Mercy Convent in Savannah, Georgia, where Sister Carroll lived after her retirement from Emory/St. Joseph's in 2006 until her death in 2018. The Sisters she met that day resolved to find a fitting location for Burnette's portrait.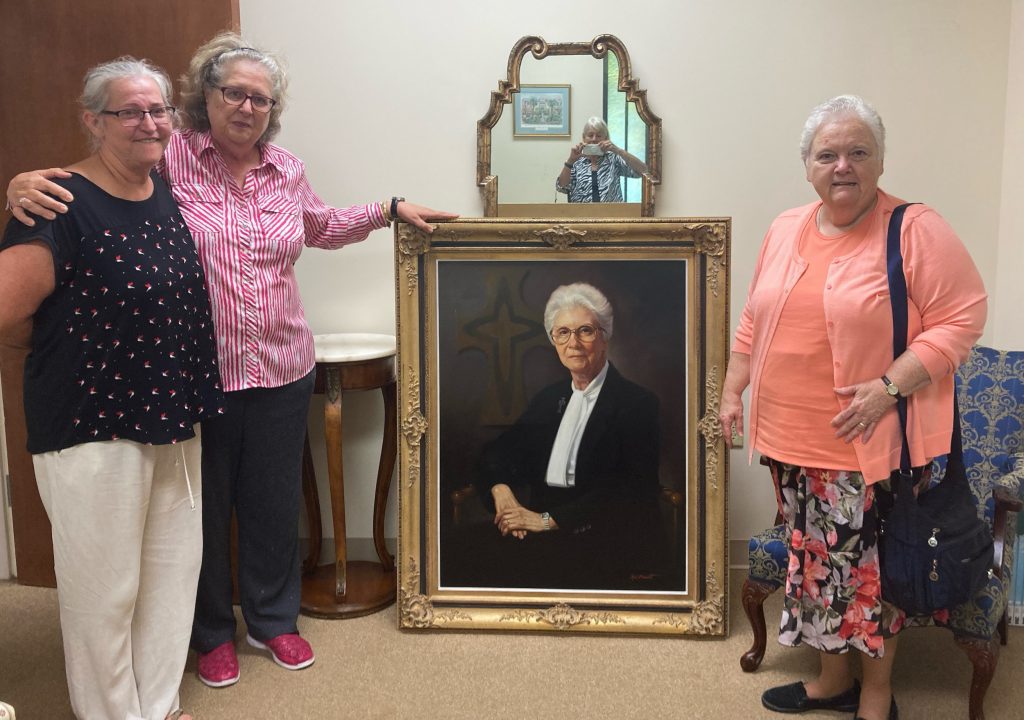 In September, 2022, the Sisters of Mercy Convent in Savannah donated the portrait to Mercy High School in Baltimore, Maryland where, in 1960, Sister Carroll had served as founding principal. Under Sister Carroll's leadership, the school became one of the premier schools in the Baltimore Diocese. Today her portrait hangs in the Oakey Lobby of Mercy High School's Harry and Jeanette Weinberg Auditorium, a 660-seat auditorium that serves as a center for the school's performing arts. While the portrait itself is a beautiful work of art, it is also a symbol of her lifetime of service and dedication to others. The portrait serves as a reminder to the students of the values that Mercy High School holds dear—leadership, compassion, and dedication to service. The current principal of Mercy High School, Mary Beth Lennon, carries on Sister Carroll's legacy while overseeing the education of 440 students.
By trusting this portrait to Lora Hill's care before his death in 2013, Clyde Burnette guaranteed that Sister Carroll's life of giving and service could continue to inspire students to reach their highest potential in the future.
References:
Rasmussen, F. (2018, Aug 27). "Sister Mary Michelle Carroll, first principal of Mercy High School, dies".
The Baltimore Sun.
Sister Mary Michelle Carroll, first principal of Mercy High School, dies – Baltimore Sun

(2018, Oct 4). "Sister Michelle Carroll, RSM, educator and health administrator, dies", August 24. The Georgia Bulletin.
Sister Michelle Carroll, RSM, educator and health administrator, dies Aug. 24 – Georgia Bulletin – Georgia Bulletin
Shaw, M. (2013, May 7). "Clyde Burnett, BBDO ad man, portrait artist". Atlanta Journal Constitution.
obituary Clyde Burnett AJC.pdf

Burnett, Clyde. (2003, Dec 3). "His Work". Booth Western Art Museum Art for Lunch,
Booth Western Art Museum Featured Speaker
Mercy High School, The Mercy Cross, Catherine McCauley
The Mercy Cross – Catherine McAuley (mercyschools.org.nz)