By Rebecca Kemmerer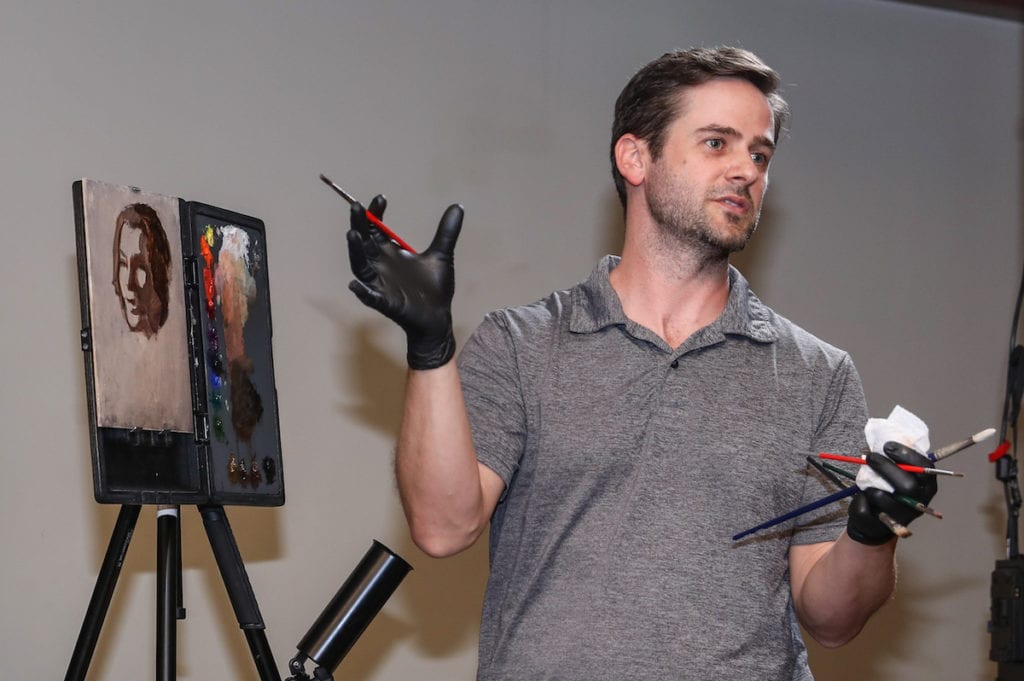 A merger of centuries-old painting traditions and contemporary web-based communications is created in the art and professional life of Louis Carr. With Michael Klein and other associates at East Oaks Studio, he offers instruction via the web, and produces documentary and instructional videos. He also keeps busy with portrait commissions. At our September meeting, he painted an excellent demo, with member Lora Hill as model.
For this alla prima demonstration, Louis modified his approach but used the same three steps he teaches:
Develop a drawing. Using thinned earth pigments, focus on the drawing and the shadow shapes, until you get the likeness;
Move into the light and build the forms with premixed value or color strings, constantly making drawing corrections;
Push and pull the shapes, adding the more intense colors to complete the painting.
Materials:
He uses aluminum composite (ACM) panels purchased from a sign supply vendor, cut to size, sanded with 200–400 grit sandpaper, and prepared with lead white alkyd ground or gesso. Most of his commissions are 9" x 12", although he also paints three-quarter or full-length portraits with interior or outdoor backgrounds.
On a mid-value gray vertical palette, his colors were: cadmium yellow, cadmium orange, vermillion (Rublev), alizarin crimson, manganese violet, French ultramarine blue, cobalt blue, viridian, sap green, transparent yellow oxide, transparent red oxide, raw umber, and black. Because of its transparency, he likes to use trans yellow oxide in the shadows. Mixed with white, it becomes opaque and is used in the lights. The violet is used to neutralize his yellows. He uses Oleogel medium, but not on an alla prima painting.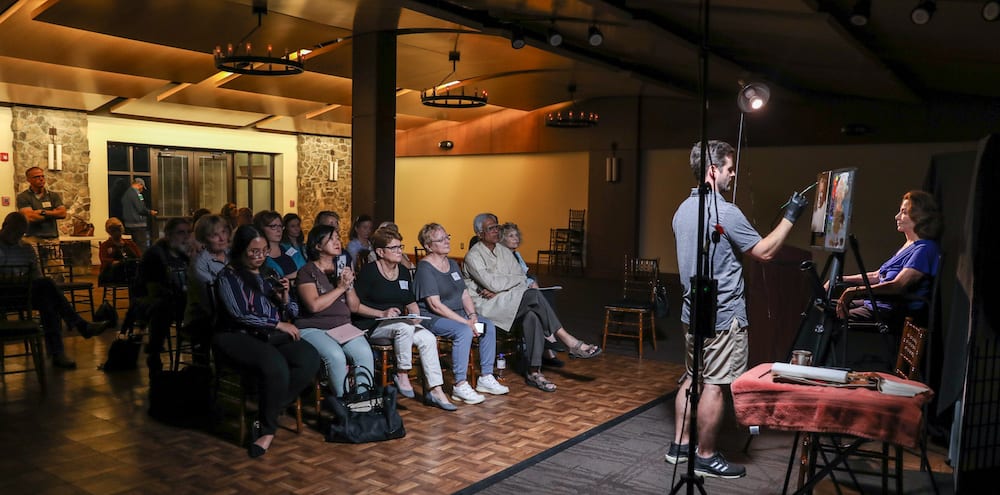 Methods:
Louis mixes about eight values of both warm and cool neutrals before starting. These are used for both the shadow and light areas. The neck and shoulders, mostly left unfinished, are completed at the end to reinforce diagonals or other compositional features in the portrait.
He paints about two dozen commissions a year and about half of those are children. Next year, he will cut that to 12 so that he has time to paint an equal number of his own "poetic" paintings, figures outdoors or with interiors. He paints older children from life, but those under five years old, only from photos. A key to painting children: focus on alternating warm and cool notes in the skin, as it will be higher value than in an adult. Commissions are an opportunity to try something new, such as a new color harmony.
Louis was influenced by the portrait artist Marshall Bouldin, who was a mentor from childhood. He's also inspired by Rembrandt, Bouguereau, and the landscapes of Jules Breton.
Parting advice:
Focus on drawing, but realize that whatever you lay down will be wrong—what's important is how you correct it. Grow by doing things you don't usually do or aren't comfortable with. Painting alla prima is like sprinting, it requires faster decisions, but it helps you with large format indirect, studio painting—which is more like a marathon. Don't forget that you can't take "you" out of "your" painting, so pick and choose what speaks to you when you learn from instructors.
To see more photos from this event, click here to visit the Event Gallery.
Photo credit: Vinod Sharma