By An Aspen
Chantal Lynn Barber feels like she is living a second life when she looks at how her painting style has changed from its tight beginnings. "I paint people because I truly love people," she said. "I want a chance to connect and learn. The main thing is that whatever I do or say up here on the canvas is who I am." Most of the artists in the room could relate to this as she shared thoughts about her chosen medium, the process of making art, selling art, social media, and other things that have inspired and challenged her.
Originally from San Diego, she started painting in acrylics when very young and was largely self-taught. Influenced by a perfectionist mother, her technique developed into a tight and detailed style that was successful at reproducing a likeness but left her wanting more. She transitioned into oils, but when she became a Navy wife and had to move frequently, working in oils became a challenge. The logical solution was to return to acrylics, but then she faced an unexpected obstacle—medium prejudice.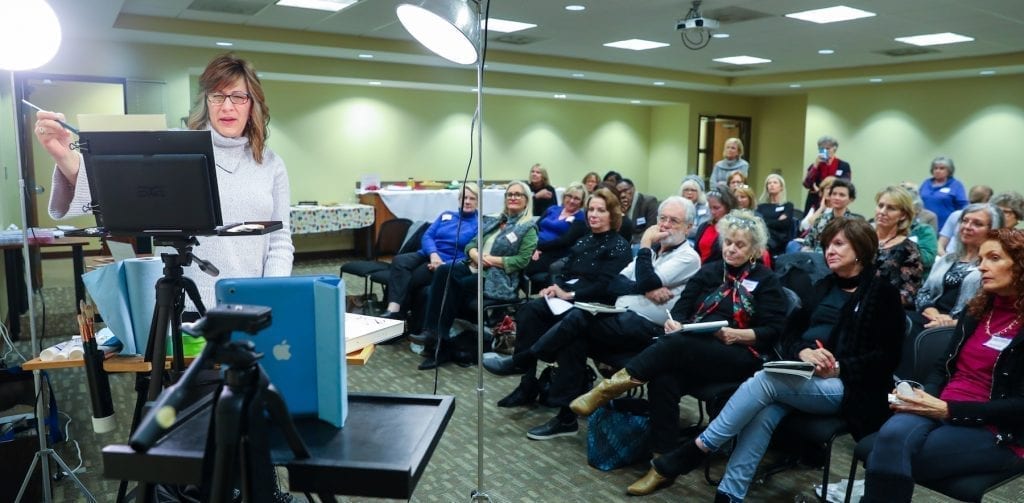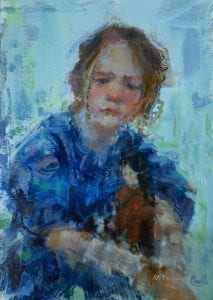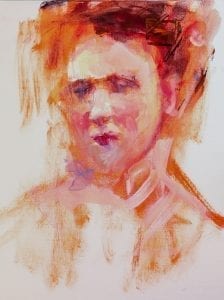 Barber was told that acrylic was just for abstract painters, not for realistic fine artists and certainly not for serious portrait artists. Looking for a teacher, she found few options in advanced instruction. Having started with acrylics, she felt a strong pull to it. With a passion for portraiture, she took classes taught for oil painters and translated the colors and techniques to her acrylic paints. "There came a day when I realized that I was doing the same things over and over again, expecting a different result." she said. "I needed to make a change, go in a new direction. Even if I failed, I'd rather take the leap than stand still."
She continued to work hard but found that contacting potential buyers presented a new set of challenges. Social media provided an avenue to contact and connect with potential customers. When marketing through social media she advises to keep your public face positive. "Although we may think it makes us real to share our struggles, most people see it as weakness," she said. "No one buys art out of pity. We all want to follow people who are winners. A musician can play a song poorly but then it's gone. It doesn't sit around for people to see and judge. Get rid of your mistakes after you have learned your lessons from them." She believes it's important to be authentic not only in your artwork, but in your professional persona. "The public doesn't want to get to know you online then find out you are someone else when they meet you in a gallery. You have to be authentic. Customers buying art are buying a piece of the artist, so that personal connection is important."
During her painting demonstration, Barber talked about both her technique and materials. She likes Golden and Liquitex heavy-bodied acrylics and does not use mediums or extenders. Her canvas or gesso board is toned with a neutral gray and for the demo, she began with a transparent red oxide. "I want to be constantly drawing as I'm painting,  refining, and making the drawing more accurate," she remarked as she worked. Mixing a medium flesh tone, she began adding more color to the painting, remaining constantly aware of the values and temperatures of each color, while working with a limited palette in order to mix accurate and vibrant colors. Acrylic paint dries one value darker, so it requires a little getting used to.  "I control the values on my palette which enables very soft transitions," she says.  She started with a pile of darker paint, then lightened it to create more values. Employing a dry-brush technique she also will use paper towels, rubber spatulas, and anything else that will make the desired mark.
"My paintings show a glimpse of the human soul because it shows a part of my soul, to resonate with another human being. I am not eloquent. I am not a writer.  But when I get to this canvas, I can say what I want to say. We don't have to be perfect to be beautiful." But Chantal Lynn Barber's words were eloquent and touched the heart of what most of us artists strive for. It's that fulfillment and expression of self, and our relationships with others, all at once, in a single painting. "Success means a lot of different things to different people," she said. "Define it and go for it."
Photo credit: Vinod Sharma