By Amanda Mattison
Leonardo da Vinci's Mona Lisa stands among the most recognized works of art across the globe and is arguably his most widely-known piece. To discover what some of today's leading artists think, or hope, will be their most recognized work, we asked "Who is your Mona Lisa? And why?" Here's what they shared regarding their most iconic pieces to date. 
Kamille Corry, The Reluctant Genius (Portrait of John), 2018, oil, 50"x 36"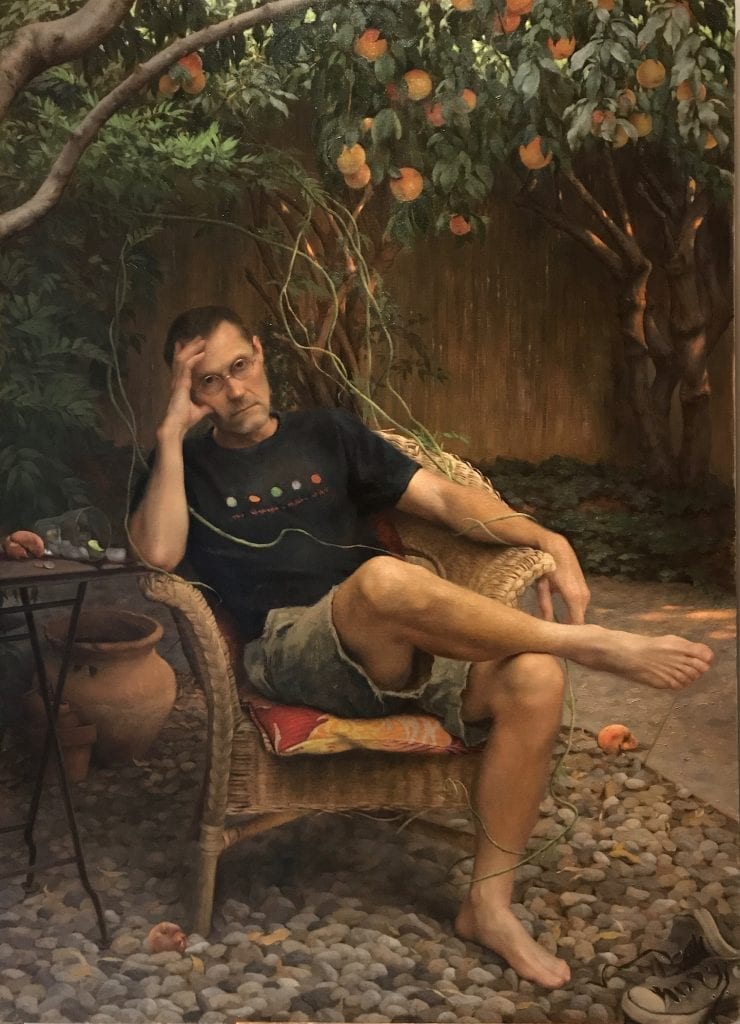 Realist figurative and landscape painter, Kamille Corry, feels her most iconic work is The Reluctant Genius (Portrait of John), a portrait of Corry's closest friend. 
Corry reflects that this was one of her most significant breakthrough paintings because "the composition is interesting, and the naturalism within the landscape, the pose of the figure, and the expression on the subject's face all work together to form a narrative. I think it draws the viewer in, wondering what the story might be." 
Corry has infused personal symbolism with whimsical, surreal elements such as the wisteria vines entwined around the model. For Corry, the painting marks a new level of technical ability, including the capacity to design and execute the composition quickly. Further, she says, "It has always been a strong desire of mine to paint the figure outdoors—which is challenging—and this painting is the most successful one I've done outdoors." Corry does not use reference photographs. All her work is done from life, memory and conception, making the challenges of this type of painting even more difficult.
The Reluctant Genius has been selected for the semi-final round of the most prestigious portrait show in the U.S.—the Outwin Boochever Portrait Competition at the National Gallery at the Smithsonian in Washington, D.C. She is excited and hopeful about the prospect of being chosen for the final round. 
Rose Frantzen, Spring Corn, 2016, oil, 72"x 48"
For Rose Frantzen, Spring Corn can be considered an iconic painting. She says the figurative painting, which has a subtle surrealist narrative, is referential to the Regionalist work of Grant Wood and Thomas Hart Benton and is "a twenty-first century continuation of the conversation the Regionalists were having with their time and our midwestern culture."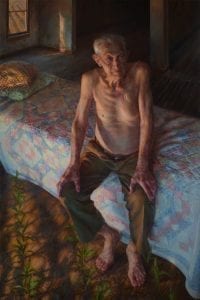 Frantzen enjoyed this painting in its manifestation almost as much as the process of its creation: "It was inspired by a powerful family story of loss, of losing loved ones, as well as the family farm; and by the profound dignity, nobility, and spirit of my subject Ken Ruggeberg."
Almost 92 at the time of this painting, Ruggeberg grew up farming corn in Iowa alongside his ten siblings. In Spring Corn, Frantzen contrasts Ruggeberg's past life, filled with family, with his present one of solitude. 
Frantzen reflects, "The entire composition is bathed in the light of sunset conveying the contrast of this time in Ken's life and the young corn. The environment—the arrangement of the room, the bed, pillows, floor, walls, entrances to darkened rooms—all go back and forth between inner and outer meaning. Uncle Ken's weathered arms, feet, and body, his revealed pacemaker, in collusion and contrast to his expression, are all elements I want the viewer to interpret. Rhythms of his chest like the rhythms of the landscape. His feet, veins like roots, in the dirt and on the floor, also are intended to be interpreted, perhaps revealing a sense memory of knowable and unknowable places…his past, present, and future."
The piece marks Frantzen's willingness to leave the comfort zone of having a subject and scene from which to paint. She used her mind's eye and life references as conduits to convey her vision. Although she had tried throughout her career to use this methodology, she now sees that sticking with this seemingly painful exercise has worked. 
Spring Corn was purchased for the Figge Art Museum collection, is featured in the Art Renewal Center, and was awarded the PoetsArtists Award.
Cornelia Hernes, Self-Portrait with Black Hat, 2018, oil, 12"x 12"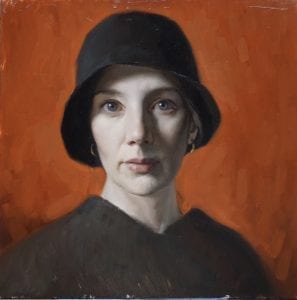 For classical realist Cornelia Hernes, Self-Portrait with Black Hat best signifies her work in regard to portraiture. Portraiture is what originally drew her to painting: "I have always been interested in how to create a mood, story, or insight through the emotive world of the human form and expression."
For Hernes, this work captures a time in her life when her past and present experiences—living in both the Swedish countryside and Florence while being visually influenced by the urban environment and intensity of New York—produced a painting that echoed her previous work. She reflects that the self-portrait marks a moment of a major move that has had great impact on her work and life. Also, it was created in midlife when she was becoming more set, determined, and enriched by different experiences. 
This particular self-portrait was painted during the winter: "It was cold in my studio, so I had a warm poncho on. The black hat has a small brim which blocks light from raking across my eyes, and keeps hair from my face while painting." Hernes feels the strong visual impact of the painting is due to the contrast of the red background with the blue of the eyes, and sets off the cool chroma of the skin. The flash of yellow gold in the earrings completes the primary color trio in her composition. She reflects that the intense, fiery background frames the face, and the visible brush work provides an abstract, textured counterpart to the smooth rendering of the skin. 
Hernes says, "The slight parting of the lips hints at a conversation while it softens the intensity of the slightly ambiguous gaze. The expression is both apprehensive yet curious, vulnerable yet strong. Like nature, our emotions and personalities consist of variations and contrasts, and I believe I captured the essence of this."
Self-Portrait with Black Hat was first exhibited at the Florence Academy of Art Gallery at Mana Contemporary in Jersey City. It was then featured in International Artist Magazine. The painting sold while being exhibited at the Face Value exhibit in London. 
Natalie Italiano, Remembrance, 2017, oil, 22"x 30" 
Contemporary realist painter, Natalie Italiano says Remembrance has had the greatest impact on her growth and development as an artist due to its scale, process, and subject matter. Italiano says, "Any artist striving for growth has to do some very personal soul searching, and the process of change and self-awareness can be very difficult. I knew that I had broken through a barrier with Remembrance and had reached a turning point."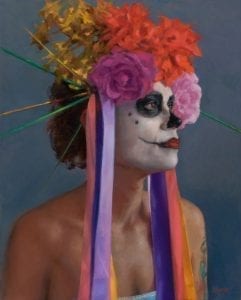 As for public reception, this painting received strong responses, including love and fear. Although she later bought a print of the painting, one of her collectors was even afraid to come into Italiano's studio because this piece scared her. Italiano loves the portrait: "It was a joy to paint, and everything about the experience of painting Remembrance seemed to unfold of its own accord. I felt I was in a moving current, that rare peak experience we occasionally glimpse." She says, "When I look at the portrait, I feel both peaceful and powerful, and the depth of my own engagement. When I first learned about the Mexican holiday, The Day of the Dead, I was very moved by the tradition of celebrating and remembering lost loved ones. I have experienced loss, and I longed to be part of this celebration."
A student of Nelson Shanks for many years, Italiano helped found Studio Incamminati. She recalls that being part of such a strong tradition and environment required that at some point she pull away from working strictly from life and studio set-ups. This painting was part of her process of pulling away, and self-actualization wherein she used the skills learned working from life over many years to suit her needs, and express her vision. 
Remembrance was featured in the exhibit, Nelson Shanks and His Influence: Past, Present and Future, at Stanek Gallery in 2017. The piece was also featured in Lea Colie Wight's new book, Foundations of Classical Oil Painting.
Joshua LaRock, Laura in Black, 2015, oil, 16"x 20"
A portrait of the artist's wife, Laura in Black, is Joshua LaRock's most iconic piece to date, and the one with which he is most satisfied.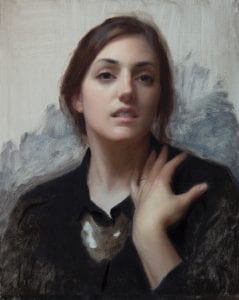 LaRock says, "I practice the techniques of good drawing and painting, constantly searching to get better, but each time I approach the canvas it is a humbling process. The works that really have that something, like this one, transcend good skills and seem to just happen. This was one where everything conspired together to make it successful."
He reflects, "Laura in Black is without question one of my favorite works, and not least because it is a portrait of my wife. It was hard to let it go. People say they can see my love for her in the painting." Further, he says, "an ineffable alchemy occurs, embodying my love for her, and resulting in a special work which is more than the sum of drawing, oil and pigments. I was searching to find an aesthetic which balances my desires to stay true to classical ideals, influences and techniques, while speaking in a modern idiom, striking a resonant tone with contemporary hearts. To that end, I sought a gesture and expression, along with a subdued color palette, that is wistful, evoking a vague but deep longing. Her gaze is warm, sensitive and direct, but also a bit distant, searching for something unknown, and the unfinished, frenetic brushstrokes around the perimeter leave an unresolved tension."
LaRock says that the portrait taught him about the importance of emotional content in a work of art: "That is not to say that it is unimportant to draw and paint well, but rather those are prerequisites to being able to capture something of the human spirit that transcends the physical painting. I suppose I had always understood this…but I had been so focused on getting proficient in the technical side of things that I'd lost the importance of giving attention to each work packing an emotional punch." 
Laura in Black is LaRock's most critically acclaimed and widely exhibited work to date. It was selected for exhibit in the prestigious BP Portrait Award in 2016 at the National Portrait Gallery in London, before touring three other venues in the U.K. The National Gallery chose the piece to grace the cover of their What's On catalogue that summer. Additionally, the Art Renewal Center awarded Laura in Black a Purchase Award for their 12th International Salon. It was shown at the Salmagundi Club in NYC, and then sent back to Europe to hang at the MEAM in Barcelona. It is now in the ARC permanent collection.
To view these iconic pieces and more of the artists' works, visit:
Kamille Corry: www.instagram.com/kamillecorry/?hl=en
Rose Frantzen: oldcityhallgallery.com
Cornelia Hernes: www.corneliahernes.com 
Natalie Italiano: natalieitaliano.com
Joshua LaRock: joshualarock.com