By Ashley Hawkins Stewart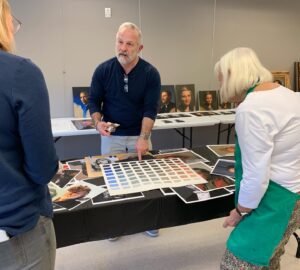 The Portrait Society of Atlanta recently hosted a workshop taught by Mike Wimmer, award-winning illustrator, portrait artist, and art professor currently teaching in Savannah. Held at the spacious North Shallowford Road Annex, ten attendees enjoyed learning from Wimmer's vast experience in classical realism and illustration.
After a late start due to the infamous I-285 traffic, students were treated to a lively and informative talk about the masters of painting. 
The opening presentation focused on the Old Masters and why they were so special. Rembrandt, for example, gifted us with a series of self portraits and in doing so allows us to see his progression through the years. His later portraits were looser and therefore more lively. Rembrandt gives us a wonderful lesson in the importance of value range as opposed to color range—the former being vastly more important. Wimmer then pointed out that the often studied John Singer Sargent was the master at presenting what's important and conversely leaving out what's unimportant. 
The talk then turned to the fundamental importance of the limited palette. Most portrait artists are aware of the Zorn palette of Ivory black, vermillion (or cadmium red), yellow ochre and white. There are others including the renaissance palette of ivory black, burnt sienna, raw sienna, yellow ochre and white all the way to contemporary artists who espouse white, cadmium yellow, alizarin, burnt umber and ultramarine. Whether one of these palettes or one of the artist's own making, the palette should always, according to Wimmer, remain limited for cohesive results.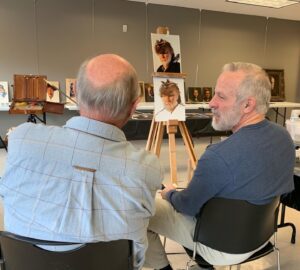 Students were then instructed on lighting techniques and why they work or don't work for portraiture. There are five descriptors of light that must be considered by the artist: source, color, strength, direction, and quality. Knowing these qualities the artist can better describe the elements of the composition including the highlight and falloff, core shadow and reflectivity. Rembrandt, in particular, used these elements in lighting to create a pattern of chiaroscuro which was made distinctive by the "triangle" of light on the shadow side of the face.
Mike Wimmer then began his demonstration, giving attendees insight into the process behind his incredible paintings. He emphasized  keeping a painting as generalized as possible in the beginning, only including information where it is necessary. Watching his deliberate brushstrokes and mixing processes inspired the whole room to get painting!
Each artist then selected an image from a variety of photos provided for the workshop and got to work. With ongoing instruction an incredibly diverse group of students produced beautiful work over two full days. Mike Wimmer is clearly a gifted teacher as well as a brilliant artist. Each of us had an excellent experience and moved forward in our individual journeys. 
For more information on Mike Wimmer, view his portraits at www.mikewimmerportraits.com. and other work at mikewimmer.com