By Suzanne Lavone Smith and Nancy Honea
In addition to being inspiring teachers and benevolent jurors, these highly respected professional artists who recently passed away were valued friends of the Portrait Society of Atlanta over our 40-plus year history. Their legacy lives on in all of those who studied with them or were inspired by their art. We wish to recognize their careers and generous contributions with some thoughts and information gleaned from their websites and other sources.
Edward Jonas (September 17, 1948 – June 12, 2020)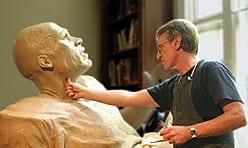 An internationally-famed monumental sculptor and portrait painter, Edward Jonas began his formal art study in Italy, received his Associate of Arts from Brevard Community College, and later received a Bachelor of Fine Arts from Florida State University. A resident of Tallahassee, Florida, Jonas provided numerous on-campus sculptures to his alma mater. According to an article in the Tallahassee Democrat, his philosophy and practice were wrapped in his belief that "while abstract art speaks to the artist, realistic art speaks to the world."
As stated on his website, 
"A professional artist for over forty years, his work is incorporated in many collections including the Smithsonian National Portrait Gallery in Washington, D.C., and the Nasher Sculpture Center in Dallas. His recently unveiled works include a monumental multi-figure bronze sculpture in New York commemorating the sand miners of Port Washington, New York, the Legacy Fountain at Florida State University and the founding President of Florida Institute of Technology. … In the last 10 years over 1.3 million dollars of sculptural projects have been successfully completed by Edward Jonas. … Noteworthy among his clients are professional golfers, Greg Norman, Fuzzy Zoeller, Peter Jacobson, Hubert Green and the family of Jack Nicklaus, [as well as Walter Cronkite, Bing Crosby] and former Florida Governor, Buddy Mackay."
In 1998, Ed Jonas co-founded the Portrait Society of America with the late Gordon Wetmore. Jonas led the organization as its Chair since 2011, while his wife, Christine Egnoski Jonas, has continuously served as its Executive Director. Many of our members enjoyed his entertaining conversations, as well as educational lectures and presentations at their annual conferences.
Additionally, Jonas shared his time and expertise with the Portrait Society of Atlanta upon several occasions as either a juror for our exhibitions or by presenting a program. Jonas took great joy in mentoring young artists. He will long be remembered for his generous leadership, friendship and artistic inspiration.
For more about Ed Jonas, please visit his website: www.edwardjonas.com
Michael Del Priore (January 16, 1954 – May 26, 2020)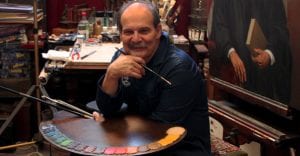 Michael Del Priore was a national award-winning portrait artist who stood firmly in the front ranks of American portrait painting. A native of Columbia, South Carolina, Del Priore studied at the National Academy in New York. With a background in illustration and further studies with nationally acclaimed artists, Del Priore possessed a solid portraiture foundation.
According to his website, 
"Del Priore painted more than 850 portraits in his 35+ year career. His works can be found in many state capitals, state supreme courts, universities, banks, hospitals, boardrooms, and private collections. Distinguished subjects include Bill Gates, Senators Strom Thurman, Richard Shelby, and Pat Roberts; Governors Carroll Campbell, Robert McNair, and Jim Edwards;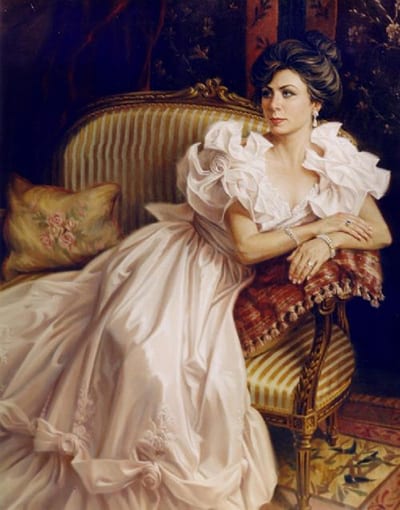 Congressmen Henry Hyde and Bryan Dorn, and Congressmen Gerald Solomon and Bill Young can both be found in the U.S. Capitol. He also painted House Speakers Robert Sheheen and David Wilkins as well as 45 judges. Thirty-eight of his works are listed in the Smithsonian National Portrait Gallery Catalog of American Portraits. In 2018, he was presented the Order of the Palmetto, South Carolina's highest civilian award, by Governor Henry McMaster, for his lifetime of artistic achievements."
Del Priore had a passion for teaching and taught at the Columbia Museum of Art, the Art Students League, the Metropolitan Museum of Art in New York, the San Francisco Art Institute and the Palette and Chisel in Chicago. He also served for several years on the Board of Directors and as Chairman of the American Society of Portrait Artists as another avenue to help fellow artists.
Del Priore was one of the Portrait Society of Atlanta's most loyal friends. He never failed to step up when we needed a juror for an exhibition or the Member of Excellence/Merit panel, or to come from Columbia, SC, to teach the occasional workshop or give a program presentation. Sometimes he just dropped in to visit his many Atlanta friends. His enthusiasm and joyful spirit were contagious and he will be greatly missed.
For more about Michael Del Priore, please visit his website: www.delprioreportraits.com
Daniel E. Greene, N.A., A.W.S., P.S.A. (1934-April 5, 2020)
A master in every possible way, Daniel E. Greene was a recognized legend as a pastellist, painter, and teacher. His work is held in six museums and in over 700 public and private collections in the United States and abroad. He was regularly awarded highest honors during the 50-plus years of his successful career.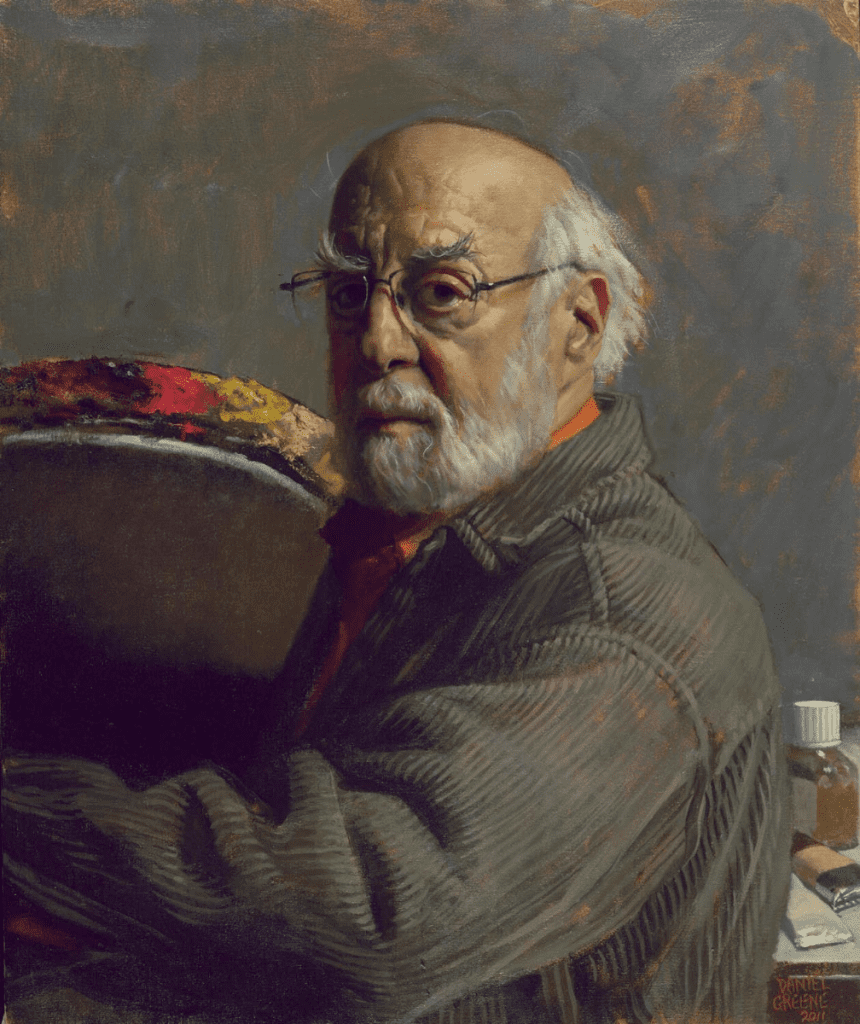 A prolific painter, Greene exhibited regularly in the U.S. and throughout the world. He created multiple series of highly collectible works including his acclaimed NYC subway paintings, still-life of games, orchids, rugs and memorabilia, and his recognized series of rarified auctions. He has been featured on numerous TV stations and in over 50 international magazines and newspapers.
A highly regarded portrait artist, his subjects included leaders of government, corporations, banking, education, industry, and families. In 1994, Greene presented his much-loved pastel portrait of Mrs. Eleanor Roosevelt to First Lady, Hillary R. Clinton in a special White House ceremony.
A generous man, Daniel Greene gave of his time to support art organizations. He served as an Advisory Board member for the Portrait Society of America, and gave educational lectures and demonstrations at most of their annual conferences.
Greene believed in the value of the Portrait Society of Atlanta from its inception in 1979 and gave a lecture at one of the earliest PSA meetings in 1981. He later served as an exhibition juror and Member of Excellence/Merit panel juror. His critiques were thorough and insightful. Whether in person or via books and videos, he shared his fundamental lessons with over 10,000 students, creating many successful artists. 
Daniel Greene remained creative and active until the end. With awards, commissions, and achievements too numerous to include here, the PSA recognizes and appreciates the life and career of Mr. Greene. He was a consummate artist, generous teacher, caring mentor and a friend who will be missed. 
For more about Daniel Greene and his educational videos, please visit his website: www.danielgreeneartist.com
Everett Raymond Kinstler (August 5, 1926 – May 26, 2019)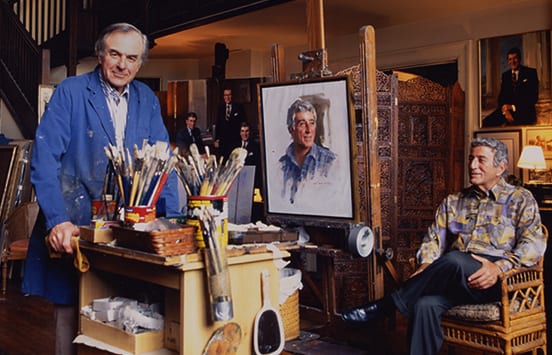 One of the most instrumental and influential portrait artists and teachers of our time, Everett Raymond Kinstler was a prolific artist throughout his 92-year life.
A native New Yorker, Kinstler began his career at age 16 and quickly became one of the "Golden Age" era of comic book artists, creating illustrations for books, comics, and magazines. Seeking additional training, at age 17 he began to study at the Art Students League of New York and transitioned during his lifetime to become one of the nation's foremost portrait painters. Kinstler later taught at the Art Students League and led numerous workshops there.
Kinstler created more than 3,000 portraits, including many of the most famous names of Hollywood. He painted more than 50 cabinet officers, more than any artist in the country's history, and eight Presidents. His portraits of Ford and Reagan are the official White House portraits. Other commissions included Supreme Court justices, six governors, four secretaries of state, and presidents of some of the most prestigious universities and colleges.
The National Portrait Gallery in Washington has approximately 80 of Kinstler's works in its collection, and in 1999, he received its highest honor, the Copley Medal.
Despite his busy schedule, Kinstler graciously served as juror for at least one Portrait Society of Atlanta exhibition. Many of our members studied with him, as well as learning from his demonstrations and lectures at the annual conferences given by the Portrait Society of America where he served on their Advisory Board.
To learn more about Mr. Kinstler, please visit his website: www.everettraymondkinstler.com