By Amanda D. Mattison
Jon deMartin is a storyteller. Whether his affinity for the narrative emerged out of his natural propensity toward image-making as a child or his focused study as a film student at Pratt Institute, when Jon creates art, he literally and figuratively paints a picture.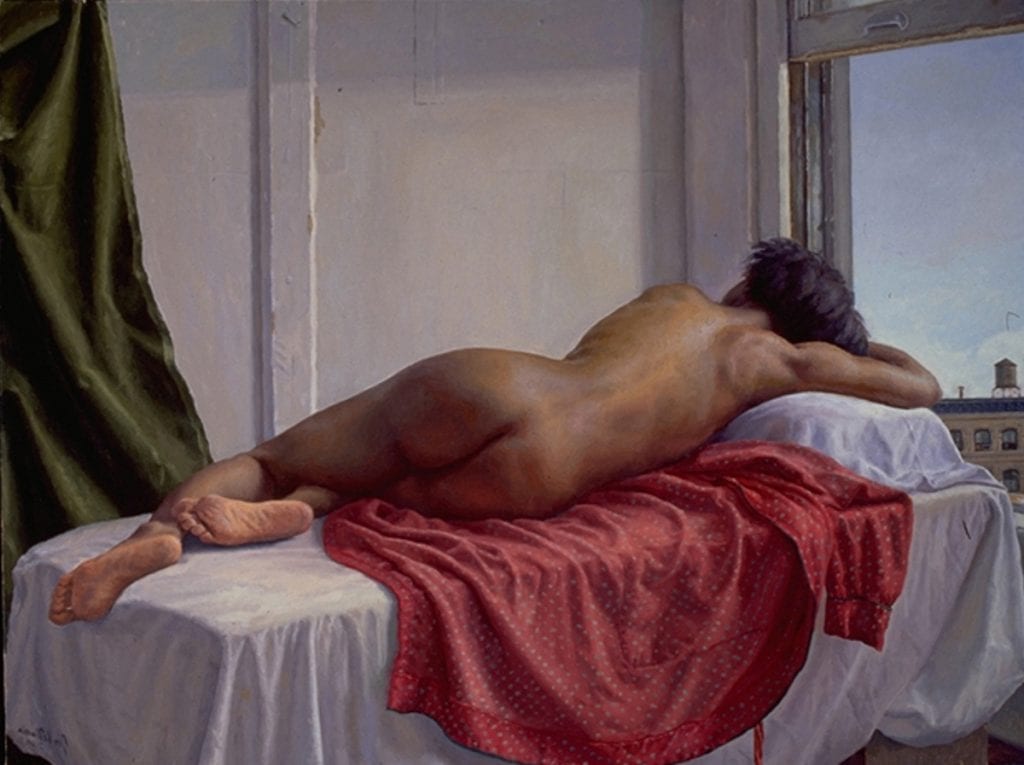 One of today's leading artists, Jon concentrates on the figure, portrait, and industrial landscapes. His drawings are as exquisite as his paintings, and both are studies in motion as well as emotion. He has taught life drawing and painting for more than 20 years at prestigious locations, including the Art Students League and Studio Incamminati, and has an impressive list of exhibitions, accolades and achievements. 
Recently, I had an enlightening conversation with Jon about how he finds inspiration, develops his ideas, depicts form, teaches students—and of course, tells a story.
Can you share a bit about your life as a young artist?  
I liked to draw as a kid and began drawing around eight or nine years old. I was a jock and baseball player, but l always loved art. I went to Miami to play baseball, but I took art classes and transferred to Pratt Institute for my last two years as a film major. I loved scouting locations and drawing up story boards. I had an intuitive sense of storytelling, sort of a bent to make images.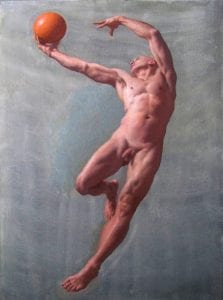 Some of your narrative paintings are historical while others are modern takes on classical forms and notions, but all of them tell a story. For example, Rebound, in which you depict a man reaching for a basketball, seems timeless. How do ideas like this emerge for you and how do you develop them? 
As I live my daily life, I take notes and draw ideas in my sketchbook which I think may be worthy of developing. Then, as I meditate on them, I find I may become excited about pursuing an idea. I do studies that further explore the idea—ideas from nature, everyday life, extraordinary moments I see.
Art also gives me a lot of ideas. I have a passion for collecting old master drawings and I remember the most exceptional ones. I see something I can apply to a pose. I go to the resources. It's not a bad idea to borrow from the best, like Degas and the old masters. 
I may not consciously have a story in mind when making an image—I like to leave those questions out on the table, but I like movement—in sports and in art. To capture a movement in a drawing or painting is an incredible feeling.
Do you find greater fulfillment through your detailed drawings of the human form or through your narrative oil paintings?
I find fulfillment through both. The drawings are preparatory studies for the paintings, but I am beginning to enjoy drawing more and more. I find that really understanding the process of making a picture comes down to drawing—at every level. I enjoy making studies for the painting from the live model because I can focus on what is before me. As for the narrative paintings, they can be more fulfilling and rewarding because they're so labor intensive.
How do you feel about teaching and what is your approach? What do you hope your students glean from your teaching?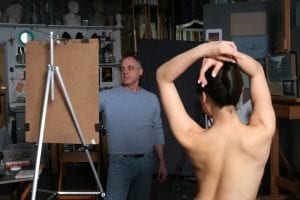 I like teaching because it's a nice balance. It's so easy for the artist to isolate in the studio. You can get deep into that, which is wonderful, but you do need a balance, or you can get really weird. We all love that aloneness and meditation, but it is essential to get outside of yourself, be with other people, and share. I love having the ability to share with like-minded students. It is a wonderful gift.
When teaching, I sit and look at a drawing as if it were my own. I consider what I would do to solve problems. I think it's important to offer students a perspective to add to the other teachers' perspectives they're learning. I see myself as one of many influences: other teachers have wonderful ideas that add to each artist's repertoire of learning. 
Do you recall ever feeling you had reached a point of mastery? What would you say to artists who are early on in the learning curve and may feel disenchanted? How about artists who feel they've achieved some level of mastery or those who've lost a bit of the passion as the work has become less challenging?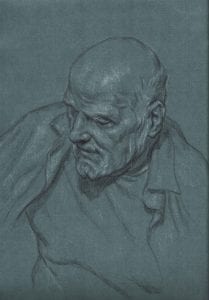 With drawing, I feel a little more comfortable with the mastery. The more you learn about drawing, the more you bring ideas into the process. What I love about drawing is the conceptual part—it's forever, you never stop. 
As for painting, I'm getting there. It's a nice feeling to be able to concentrate on your vision and not be overwhelmed by the technical aspects. However, it's a lifetime process. 
I would say it's okay to feel disenchanted. It is hard to be satisfied, but I think that is what motivates us. So keep looking at wonderful artwork that inspires you, try to get into the heads of the artists psychologically and technically, read about artists you admire, and try to learn on many levels what they were doing. 
The learning curve never ends. I haven't lost the passion. There are always new challenges ahead. As we grow, we become more confident, and we want to take more risks and stretch ourselves. That never gets old! We learn something new from everything we draw and have more questions than answers. Seek the answers.
Any new developments for you moving forward?
I am currently teaching through Zoom. I do enjoy seeing the gallery of my students and talking about what we are doing. I have been putting old master drawings and engravings on my share screen. I teach workshops in the summer and winter, and during the school months, I have private students. 
I'm also going to start doing video demonstrations online. There are so many topics to cover; I'm looking forward to it. In my studio, I'm working on a new direction: a series of genre paintings of modest sizes. In my creative process I'm relying more on drawings and memory which, for me, validates the profound importance of drawing for the artist. 
I'm finding social distancing is forcing me, in a positive way, to work from imagination and drawings. All of these experiences in our journey build character. This may be the push that I needed to get even more into picture-making.
To view Jon's work and learn more about his teaching, workshops, exhibitions and publications, visit his website at jondemartin.com or follow him on Instagram @jondemartin.
Due to the current public health situation, Jon deMartin's September 2020 workshop for the Portrait Society of Atlanta has been moved to September 2021. Members will be notified of the exact date when all details have been finalized.