By Folio Staff
A drawing is not a lesser thing, a drawing can be so complete in itself as a drawing, it doesn't need paint.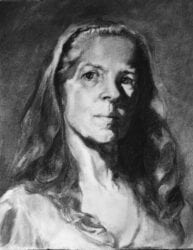 Even though An Aspen has been Utah for almost two years now, in the Apprenticeship Program at the Hein Atelier of Traditional Art in Utah she still calls the Portrait Society of Atlanta "my portrait home, I want to keep roots there."
Before going to Utah, An was already an accomplished artist, and she had taught locally but wasn't making the progress personally that she longed for. And she finally recognized something that most artists know but won't admit—"My biggest painting problem is my drawing problem."
So she applied for and was accepted into the Apprenticeship Program with Jeff Hein at the Hein Atelier of Traditional Art in Utah She decided that "when a door opens that you prayed for, you can probably still find lots of reasons not to do it—but shouldn't you at least try?"
Below are some notes from a conversation I recently had with An. In her words:
At the Atelier there is a set program, but you go at your own pace with 24 hour access to the studio, for a minimum of 20 hours a week, but more are expected. In this program, your brain and your eyes are looking in a more intensely focused, specific way. It requires a different kind of mental focus. Mentally, and emotionally, you think—is this what I really want to do? Yes, but it's really hard. Three hours and I'm ready for a nap. It's mentally exhausting, which I found very surprising. This program addressed my greatest weaknesses right off the bat.
Obviously, for me it involved a cross-country move. Big life changes and risks, physical, financial, and emotional. I'm settled now into a condo about seven miles from the studio. Not the first condo though, and I skipped the one that had a pantless man wandering around the parking lot. The first winter I broke a leg skiing (after my husband had warned me that I was too old to ski) but kept on working. Just by drawing as much as the program required, I painfully strained the muscles in my forearm, but didn't stop drawing.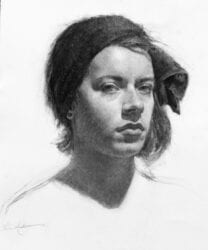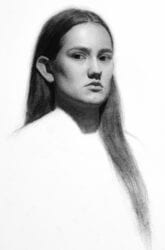 It is daunting, to proceed you have to pass many exercises in a row. But then if you mess one up, you start over. You have to show that you're proficient at the goal of a particular exercise, before moving on to mastering another one. I thought I could draw pretty well before, but the precision, execution, and complexity in the student work I've seen here has raised the bar higher for me. Jeff's amazing, as an individual he's such a nice person. He has a good heart, gives everything he can give. He doesn't hold back.
Some days I take one step towards the goal, other days I take 20 steps. When it's only one step, I still have to feel positive about it.
You can't become a true student of painting until you achieve a certain level of proficiency in drawing. When you're always trying to correct your drawing you can't really explore the wonders of color. 
Here, when your apprenticeship begins, you do a self-portrait. When it ends, you do another self-portrait. My beginning portrait is shown above, with this article, I can't wait to see what my final portrait will be like. 
Student drawings used with permission of the Hein Atelier.
---
2021 PSA Drawing Workshops
The Portrait Society of Atlanta scheduled two drawing workshop this year. Dan Thompson's workshop was in May (you can watch a demo at this link: click here). Registration is now open for Jon deMartin's three-day workshop: September 27-29.
Click here for information on Jon deMartin's September workshop: Jon deMartin's workshop.