By Jane Carroll
On an evening in June at a Portrait Society of Atlanta critique session, we were fortunate to have Marc Chatov share both his time and experience. He described his critique method like this:
First, he will search out and recognize areas that are well done, and then he will analyze any weak points.
He follows up with suggestions on how to improve the painting. Frequently he will reference the Masters—pointing out that when you run into a problem, go back and study the Masters, where you can find solutions from over 500 years of art history.
With tips on brushwork, paint handling, backgrounds, and edges, Chatov offered guidance to the seven artists who brought work for his input, Jenny Brahm, Margaret Ann Garrett, Holly Henson, Lora Hill, Donna Leonard, Kay Ridge, and Daniel Shouse. Other members who came just to listen and observe also benefitted. This is another excellent way to grow your skills.
Working from photos: This question arose, what can you do when your reference consists of one single, poorly lit photo? Chatov commented, "The problem in working from photos is a loss of detail—which is key." One suggestion was to work from life as much as possible. Working from life will help you understand more about the structure of light and shadow and then be able to face challenges from poor reference material.
Incorporating a landscape: Several of the works submitted for critique incorporated landscapes. Among the input from Chatov was to consider that "trees have character" too. Look closely at the work of Albert Handell and Isaac Levitan. And take note of what Albert Bierstadt "pulls out of the trees" in his landscapes.
Inviting narrative portraiture: Sometimes a portrait calls for more information and is incomplete because it wants to tell you a story. Study the narrative works of Lawrence Alma-Tadema for inspiration.
Background trends: When using non-pictorial background techniques be cautious about following trends too closely. Some techniques that look good now may be overused in 10 to 15 years and can look dated.
Cropping to salvage: You've been working on a portrait, and reached a point where it's just not coming together. Instead of trashing it, use cropping tools to see if resizing the canvas can salvage the work. Before cropping, experiment to see what would happen if you were to add detail. You can use tracing paper to sketch over the painting and see if details would add interest.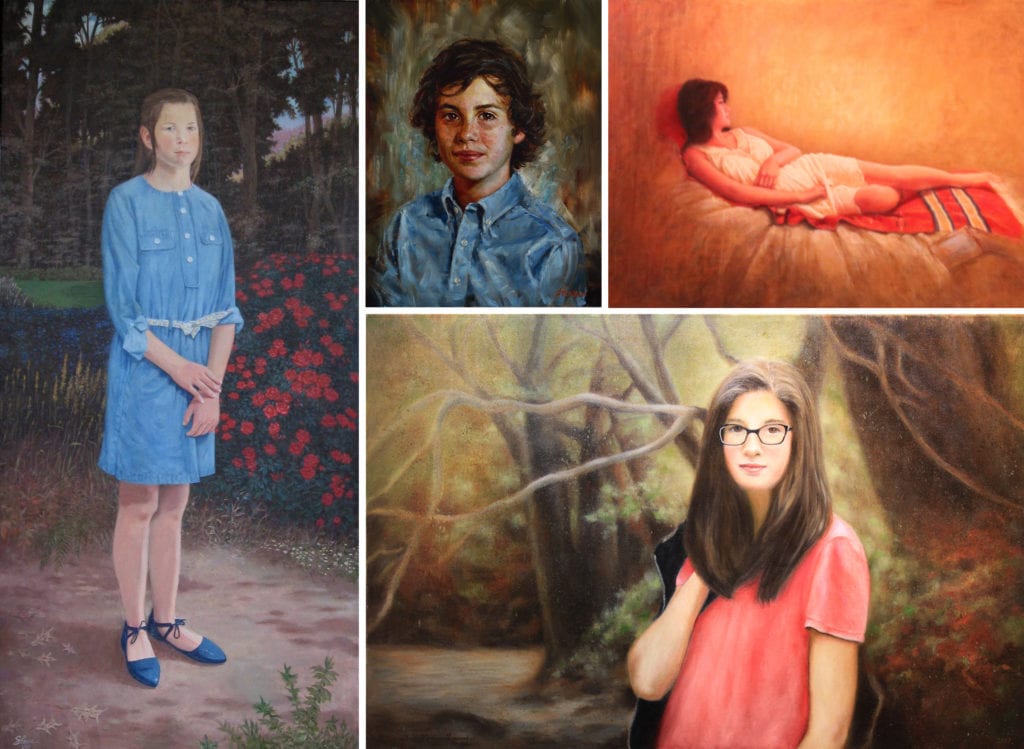 Some of the work critiqued: Miss Sophia York by Daniel Shouse (far left); Brent by Holly Henson (center); Untitled by Kay Ridge (top right); and Zoey by Donna Leonard (lower right).