By Amanda Mattison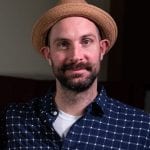 Kerry Dunn's visit for the September 25 Portrait Society of Atlanta meeting was an enlightening treat. His demonstration was a masterful alla prima painting demo and an engaging lesson in oil portraiture, full of guidelines and tips for a roomful of avid artists.
Dunn began by carefully setting up the model, artist Claire Pursley, meticulously adjusting the lighting, pose, and easel. He said that because alla prima portrait painting happens in one sitting, it's "all about time management."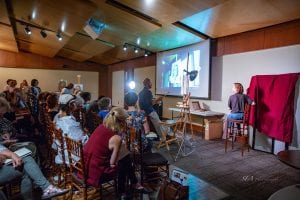 Next, he started loosely sketching his subject using a size 6 bristle filbert brush and a mixture of burnt sienna and ultramarine blue with a touch of titanium white. Dunn likes to work on a gray toned canvas with "any kind of brown" because it is like working with conte or pastels, and he can immediately see his values and colors compared to the neutral gray.
For his first stage of painting, Dunn described finding just the right mixture of mineral spirits and paint: "watery but not overloaded." He used that mixture for sketching and adjusting simplified shapes. His tips at this point were to:
• establish the large, dark shapes which will eventually frame the lighter flesh tones;
• think about building up the big masses as if working in clay;
• avoid focusing on color composition yet;
• use a centerline, then lay in lines for the bottom of the nose, ear, temples, and cheeks;
• begin to focus on the angle of the head, anatomy of the neck, and placement of eye sockets.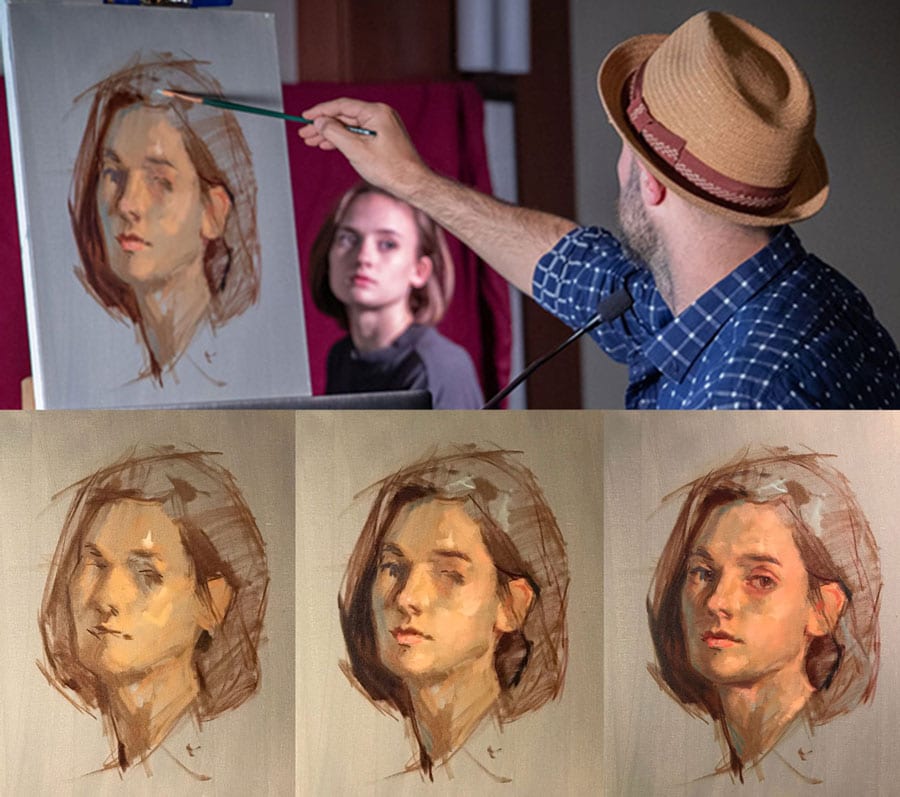 As he moved into the second and third stages, the artist used a mixture of burnt sienna, cadmium orange and titanium white. He said when this combination is used over gray, it balances nicely with the bluish tones. At this point he was maintaining an "open grisaille," while closing in the shadow shapes, and advised to:
• work in a hierarchy from simple to complex, larger to smaller shapes;
• avoid thinking about details yet;
• look for feature landmarks to work toward a likeness;
• squint to find corrections and adjustments;
• look back and forth to gauge proportions using reference points like the tear ducts;
• keep flesh tones dimmer by using less white.
For his fourth pass, he added more white to his mixture. During each stage, the paint should be thicker and brighter. Other comments he made were to:
• push warms or cools (depending on the light source) as the form turns away from the light;|
• slowly add color to the features;
• build the hair up with plane and structure – don't "comb" it;
• be loose and free while maintaining accuracy;
• avoid over blending as it flattens the structure;
• remember to think abstractly using variation in color, value and edges;
• build up light on the forms, gradually giving more information and overall structure.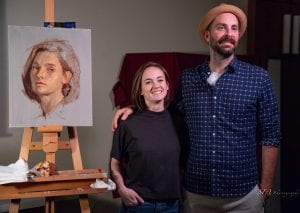 When asked about painting in front of a group, he chuckled, "Stick to the fundamentals, and you'll be okay!" Well, he certainly raised the bar above just "okay." The legacy of his training under Nelson Shanks and his years of study at Studio Incamminati, The Art Students League, and Ringling College of Art were all evident in his superb demo and teaching. Many thanks to Kerry Dunn for his excellent demonstration at the Portrait Society of Atlanta.
Kerry Dunn is an instructor in the core program at Studio Incamminati in Philadelphia, PA. His accolades include awards from the Salmagundi Club, Pastel Society of America, American Artist Magazine, and Portrait Society of America. Kerry teaches national and international workshops, and his work can be viewed at KerryDunn.com and on Instagram.  
Photo credits: Holly Henson, Vinod Sharma