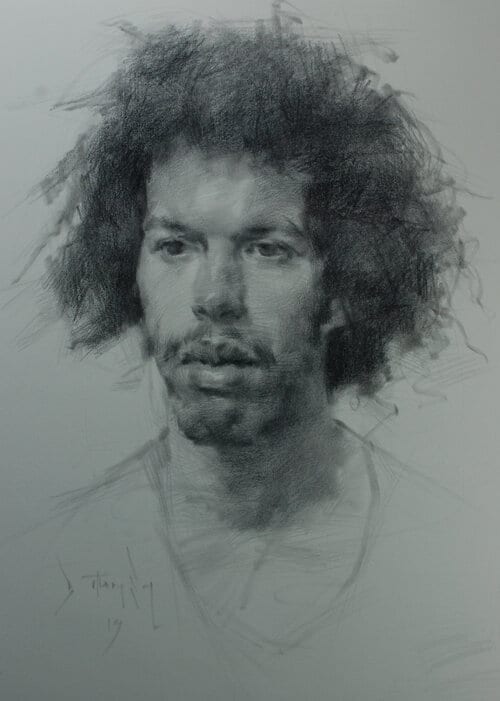 May 24-26, 2021, Dan Thompson Workshop
MAY 24-26, 2021 3 DAY ZOOM WORKSHOP WITH DAN THOMPSON
"Drawing a Self Portrait with Expressiveness & Vitality"
This Zoom W/S will be conducted 10 am – 5 pm May 24 – 26, 2021. Full participation with critiques and interaction online is limited to 25 students and is $425 for PSA members and $450 for non-PSA members. There will be an option for audit only. Here students can attend class without direct interaction with Dan, but may ask questions via chat and their portraits will not be critiqued, but they may observe the critiques of the full attendees. The cost for audit only is $250 for PSA members and $275 for non-PSA members.
After the full participation slots are filled, anyone who is  registered for audit may request to be placed on a wait list for full participation. If a spot opens up, students will be notified in order of requests and at that time pay the balance of the workshop. There may be a possibility that full participation might be increased to few more students.
More information about the workshop and a self portrait by Dan Thompson with be posted shortly. Please direct any questions to Diana Sarkar, 865-603-4465 or Amanda Bonner 615-878-7773.
Register here and fill out the form completely:
CLICK HERE FOR ZOOM WORKSHOP SUPPLY LIST
ABOUT DAN THOMPSON
Dan Thompson was born in Alexandria, Virginia, and graduated from the Corcoran School of Art in Washington, DC.  He earned his MFA from the Graduate School of Figurative Art of the New York Academy of Art, and supplemented his training with several additional years of private study and studio apprenticeships along the east coast of the United States.
He has been awarded two grants from the Elizabeth Greenshields Foundation and has twice received the Ethel Lorraine Bernstein Memorial Award for Excellence in Painting from the Corcoran College of Art and Design.  In 2001, Thompson won Best of Show in the American Society of Portrait Artist's International Portrait Competition at the Metropolitan Museum of Art in New York.
In 2006 Dan Thompson co-founded the Grand Central Academy of Art in New York. In 2008, he co-founded the Janus Collaborative School of Art in New York. Dan Thompson has also instructed privately at Studio 126 in New York and is on the faculty of the New York Academy of Art, The Art Students League of New York, and Studio Incamminati, in Philadelphia, PA.
He has demonstrated and taught workshops in San Francisco, Seattle, Santa Fe, Los Angeles, New York, Philadelphia, New Orleans, Washington, D.C, Virginia, Sarasota, FL, Massachusetts, Oregon, Boston and Colorado.  He has also demonstrated and instructed internationally in Toronto, Canada, Subiaco, Italy, China and in the Provence region of France.  In 2007, Thompson was selected an ARC Living Master Artist.
Since 2002 Mr. Thompson has demonstrated portrait drawing and painting and served as a juror and board member for the Portrait Society of Canada's International Portrait Conference in Toronto. He has also lectured at the Dahesh Museum of Art, served as a speaker at Studio Incamminati's Advanced Portrait Workshop and Symposium, and written on technique and painting practice for several art publications across the United States.
His work can be found in public and private collections throughout the United States, and in Canada, Europe, and the Middle East.