By Margaret Ann Garrett
Summer break is over and the long, lazy days of summer are behind us now. To kickoff an event-filled fall calendar, on Tuesday, September 26, to a packed studio of members and guests, the Portrait Society of Atlanta (PSA) offered an evening called Portraits in the Round, a live demonstration in which four artists worked from the same model for three hours.

The four artists were Kevin Chambers, Paolo Chiezzi, Melissa Crawford, and Sivananda Nyayapathi. Volunteering as the model was well-known artist, Marc Chatov, who posed like a pro. Abbreviated bios for these artists who were so generous with their time and knowledge can be found at the end of this article.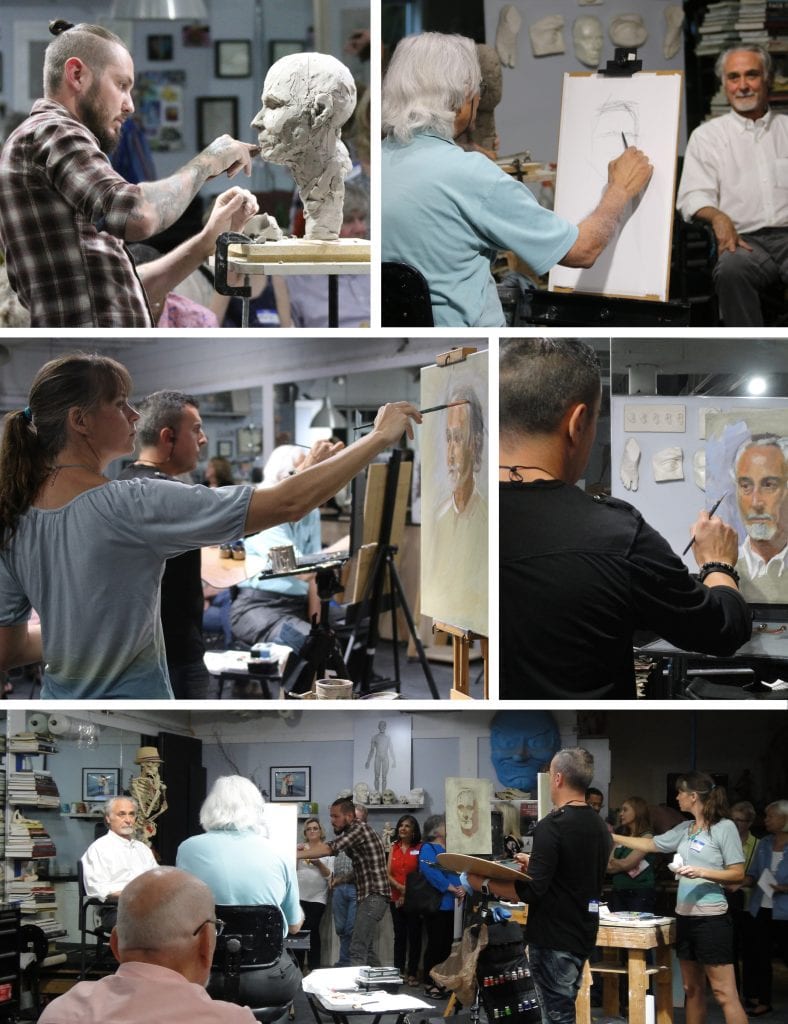 Well aware of the pressure of time constraints, all four artists were setup in advance and ready to start on time. Making the evening session unique was the variety of media used by the artists. Kevin Chambers sculpted in clay and was ready to start with a rough pre-formed skull shape. Paolo Chiezzi toned his canvas in advance, as is his usual practice. Early in the session, Melissa Crawford began boldly with quick washes of color. This was an interesting contrast to Sivananda Nyayapathi who started drawing on fresh bright white paper with fine lines of black charcoal.
The event was hosted in Atlanta at KLC studios, the sculpture and teaching studio of Kevin Chambers and his photographer wife, Lauren. With so much to see from so many viewpoints, the audience was encouraged to not just stay in one seat, but to walk around, talk and visit throughout the session, not just on the usual five-minute model breaks. The result was an energy filled evening of creative interchanges.
During a long break halfway through the evening, PSA President Carol Baxter Kirby reminded the audience about ongoing and upcoming events: an upcoming critique session with Damon Carter on October 24th; the workshop with Texas artist James Tennison on November 29th; and the ongoing PSA Fall Exhibition at the Marietta/Cobb Museum of Art which runs through December 17th, 2017.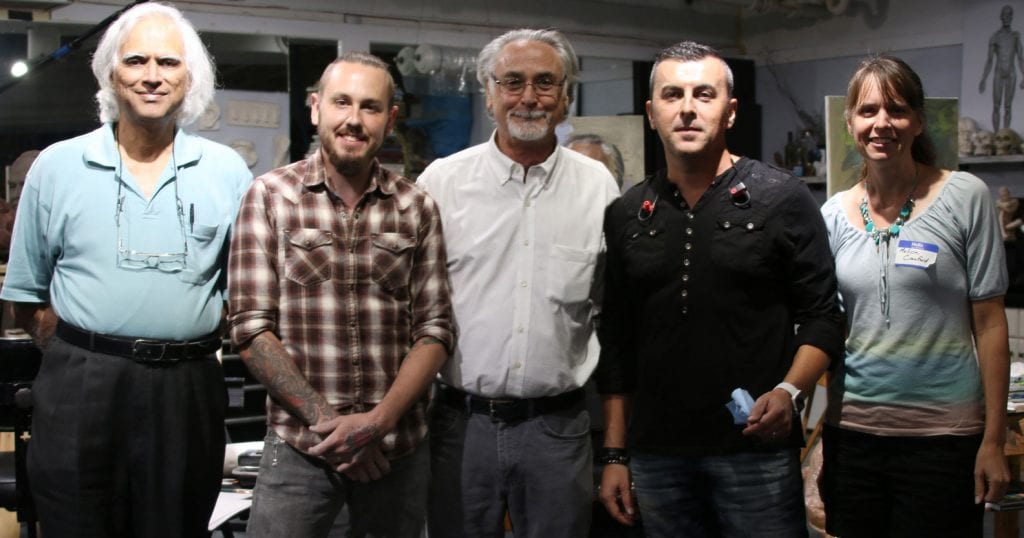 ---
A little about the artists.
Kevin Chambers, a member of the National Sculpture Society, received a BFA from the Art Institute of Atlanta. He also studied the figure in Italy, and had an apprenticeship at a prominent sculpture studio before establishing KLC Studios in 2010. Read more about Kevin at http://www.kevinchambersart.com
Paolo Chiezzi was born in a small village in Tuscany, Italy where he developed an appreciation for beauty. Though trained as a mechanical engineer, Paolo returned to his passion for painting in 2005 after relocating to Atlanta, where he began studying with Marc Chatov. For more about Paolo visit http://www.florartstudio.com
Melissa Crawford graduated from the University of West Georgia with a degree in Fine Arts and Painting. Her work can be found in collections all across the United States and Europe, and she travels the extensively for her commissioned portraits. She lives with her husband and their three children in Villa Rica, near Atlanta. Learn more about Melissa at https://www.melissacrawfordart.com
Dr. Sivananda Nyayapathi, ARCLA, was born into an artistic family, and has been exhibiting his drawings since the age of twelve. He started painting while pursuing a doctorate in Electrical Engineering. An Art Renewal Center Living Artist, he has studied with many top artists and has won numerous awards from a variety of respected arts organizations. Find out more about Siva at http://sivanandafineart.com