Art Marketing Strategies
A brief business meeting and election of new Executive Board will precede the program.
Tuesday, May 26, 7pm – 10pm, 2015
Art Marketing Strategies with Mike Brown and Heike Hellmann-Brown.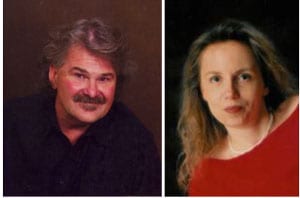 As artists, gallery owners, printmakers, custom framers, instructors, and an art journalist, Mike and Heike Brown have decades of experience in the art industry. Please join us as this husband-wife-team shares their knowledge and experience of the art business from all angles.
Conservation Stamp Artist and "Ducks Unlimited" Sponsor Artist, Mike Brown is an internationally recognized wildlife and landscape fine artist, who has received numerous awards for his realistic depictions of wildlife. Through his artwork he supports a multitude of conservation projects.
As a journalist, a literature translator and book editor Heike Hellmann-Brown's work has been published in Europe, the U.S., and in Africa. She is the translator and editor of several New York Times bestselling authors and has extensive teaching experience – as a foreign language teacher, an international trainer for software applications, and as a marketing coach.
Light refreshments will be served.
Guests are welcome — we hope you will join us.
Meeting Location
Atlanta Artists Center
Grandview Ave
Atlanta (Buckhead), GA 30305
Sign up for email alerts to be notified of exhibition and meeting opportunities.